Discussion Starter
•
#1
•
I'm sure you guys get this all the time I know I hate n00b threads on other forums. Well today on a whim I decided to go the an F-car dealer here in Scottsdale AZ while on a lunch brake, here is a post I made on Corvette Forum (I own a 99 C5 Corvette)
Anyways, just wanted to say you guys own amazing vehicle and I hope you aren't out driving and enjoying them instead of letting them sit lonely in a garage. I'll be doing some lurking and some posting around here, I dont have near the money to own one of these, but maybe one day I will and it will be an F50 even if by then it will be a thirty year old car.
I had a drill weakened this weak and during lunch decided to check out the F car dealer today walked in in uniform and looked at the cars. Saw a '95 F50 and let me tell you pictures do not come close to doing that car justice.
It had been babied becuase you couldn't tell it wasn't a brand new car. The guys at the dealer answered my questions and we reasonable nice i'm sure they get this all the time, they let me sit in the f50 and it was love at first sit, car felt like it was made for my my god himself. I don't care that it doesn't have a radio, and the gauge cluster is so small it's pointless. Still has the new Ferrari smell. Also saw a Blue 360 medona [spelling] with yellow brake (looked pretty sharp actually) and a black 360 with red interior and rad brakes.
The Paint on these cars I just cant get over, I drove one once but was too into driving it to really take the car in. The Carbon ceramic brake are aesthetically amazing.
The guy who worked there said they do most of their business during the week.
sorry for the crappy phone cam pic it was all I had.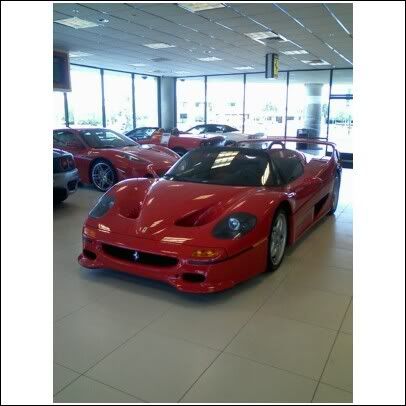 I need to find a way to make some serious:willy: money maybe get an MBA or something.