Richmond Va Detail day Sept. 11th
---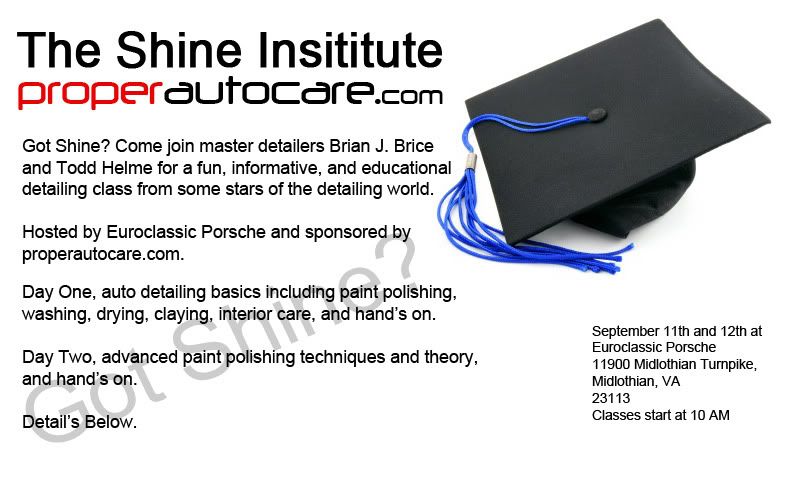 The Shine Institute is in session!
Come to Detailing School!
Hosted by EuroClassics, in Midlothian, VA.
Would you like to learn the proper way to detail your car?
Are you a detailer wanting to enhance your skills?
Are you thinking about becoming a detailer?
Do live near the Richmond, VA area?
Come join master detailer's Brian Brice and Todd Helmet for a fun, and informative two-day session and learn detailing techniques, tips, and principles from some stars of the detailing world.
The goal of this school is simple. To educate and inform all levels of detailers, from new enthusiasts to seasoned veterans on a proper detailing theory and provide time for hand's on technique.
The event is available as a one day or two day event. Choose the schedule that suits you best. The shopping car buttons below Day One and Two will get you signed up for the class!

Day One.
Want to learn the basics, then some? Then Day One is for you.
Day One is available for just $50.00, but there is an added bonus…
For attending Day One you will receive a coupon good for $50.00 worth of Blackfire, Eimann Fabrik, or Meguiar's products from
www.properautocare.com
. Day One will start at 10 AM, with class room instruction, and conclude around 2:30 PM, with Hand's On to Follow.
Also included in the admission price is a catered lunch!
Day One covers the following areas:
- Brief Introduction by the instructors
- Detailing Theory, including discussion on popular myths
- Proper Washing Techniques including
- Two bucket method
- How to wash your car safely to avoid adding swirl marks
- Selecting the right car soap for your needs
- How to dry the car gently to avoid swirl marks
-Interior Care
- Identifying and caring for leather
- Cleaning and protecting
- Tips for cleaning windows streak free
- How to clean and prep paint, including the use of detailer's clay
-An introduction to Paint Polishing
- What paint polishing does?
- How to remove paint defects.
- How to care for your polishing pads
- Product selection
- Polishing Technique
- Car Care and Manteca
- Selecting a wax or sealant
- Myths
- Dressing the trim, engine, and interior
- Keeping an award winning shine.
Day One includes a break for a catered lunch around noon, plus a hands-on period after the Paint Polishing session has finished.
Day Two.
Day Two is available for an additional $35.00.
Day Two is an advanced course dedicated to paint polishing and refinishing.
Day Two is a class compromising of roughly 4 hours of class time theory and unlimited hand's on training.
Day Two will start at 10AM and may run late.
Please Note: To attend Day Two, you must attend Day One.
Day Two covers the following areas:
- Inspection- How to prep and inspect paint, including lighting and taping
- What are paint defects?
- Paint Polishing Theory- An in depth discussion about the reflectivity of paint, and how polishes work to create more gloss.
- Paint Theory- A look at the differences between paint systems: basecoat/clear coat vs. single stage paint. Pearl, flake, and maximum thickness removal.
- What happens to the paint when you polish it?
- Different paint polishers and how they work- A look at rotary vs. dual-action polishers.
- DA polishing techniques and theory, how to achieve maximum results with a dual-action polisher
- Rotary polishing techniques and theory, how to achieve maximum results with a rotary polisher
- Machine Wet Sanding Basics
- Hand Wet Sanding Basics
- Hand's on
Day Two also includes a break for lunch. Please note: Lunch is not provided on day two!
The Instructors: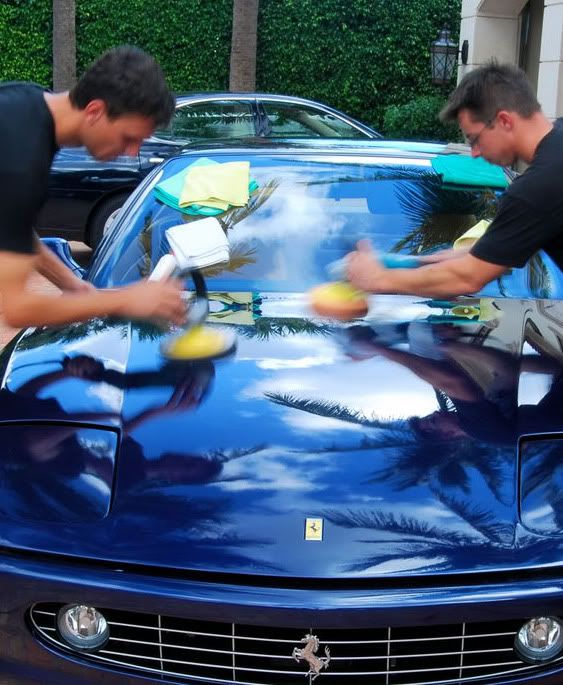 Brian Brice started his detailing career by working at body shops local to Virginia, often fixing their work. With over 10 years of experience, Brian now caters to show cars and specialty vehicles around the United States. Cars that have been detailed by Brian have won prestigious awards at The Cavallino Classic, The Good Guy's Show, Middlebrook, and Pebble Beach. Brian Brice's Finer Finish detailing company has regular clients from middle Virginia to Washington D.C.
Todd Helme has built his reputation on the Concours lawns of the world's most respected Concours shows, and in the exotic car garages of South Florida. Named as one of Autoweek Magazine's top 9 detailers in the United States, Todd has client's world wide, and has polished everything from original paint classics worth seven figures, to vintage Ferrari's worth as much as twenty million dollars. Todd also works for
www.properautocare.com
, as a product consultant and tester, as well being charge of product education.

The Location: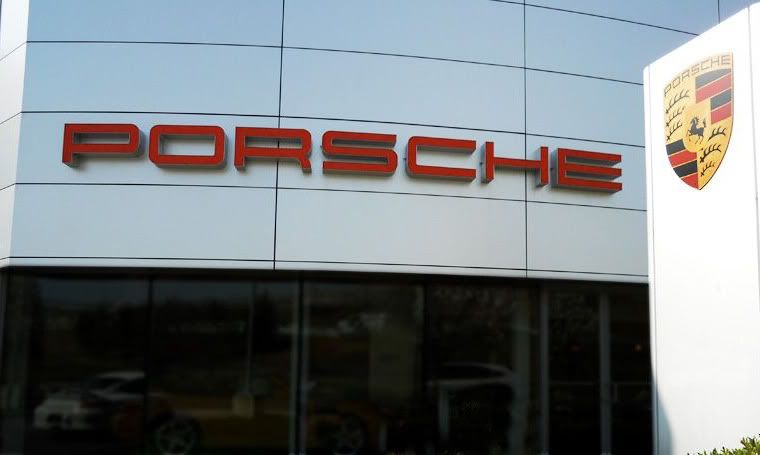 Euroclassics Porsche
11900 Midlothian Turnpike
Midlothian, VA
23113
Starts at 10:00 AM, Saturday, September 11, and Sunday, September 12, 2010
If you have any further questions please feel free to pm me, it would be nice to have a few F cars in attendance. Hope to see you there.
Posting Rules

You may not post new threads

You may not post replies

You may not post attachments

You may not edit your posts

---

HTML code is Off

---