Cracked exhaust headers: pictures how it looks like!
---
As we all know that the F430 has also serious issues with cracked headers, especially the MK1 headers. Iíve been debating this subject in a very detailed way at the ďotherĒ side and especially, how I upgraded to the Capristo headers with detailed before and after Dynos.

This subject remains still very up to date as there are still many F430ís out there having the MK1 headers. USA cars are protected by the 8 years emissions law but such warranty doesn't exist elsewhere.

I would advise any owner or future owner to be very careful with such headers. The risk of a major engine failure do exist as I know already several concrete cases of major engine failure due to sucked in metallic debris which can happen with the vacuum created between the exhaust valves and the exhaust headers. Fortunately, such cases remain very exceptional but they do exist. Even with the newer MK2 headers, I would remain on my guards and keep an eye on them.

Many people asked me how cracked headers look like. Indeed, it isnít possible to see the exhaust pipes without removing the heat insulation made of steel and covering these pipes. Between the steel cover and the pipes, there is also a layer of insulation material.

Very often, when there is a crack in the exhaust pipes, it will blow out this insulation material and this should be considered as a concrete sign of leaking headers.

Another sign is the smell of the exhaust gases especially when you cold start the car. As these exhaust gases are not yet catalyzed and the A/F ratio is largely enriched at cold start, a leaking header will diffuse that very typical and strong smell in the engine bay. Thatís how I found out the day that my headers cracked. Such smell can also be a sign of a leak between the header and the engine as should be considered as serious. The bolts holding the headers on the engine can get loosen quite easily as they are tighten at ďonlyĒ 30Nm. The gasket between the headers and engine can also have a failure and create leaks (burned out).

Here is a picture of a cracked exhaust pipe of a F430 that still had the MK1 headers as well as a picture of the insulation material which can be seen through the sensors openings.
Anybody noticed something on the header pictures???
Well here, we have the proof now that the stock F430 headers are
4-2-1 headers
...something we found out already on the Scud headers but it was always thought until now that the F430 headers were 4-1 headers...
External cylinder pipes come together into 1 pipe, internal cylinder pipes come together into 1 pipe, and both pipes go into 1 pipe towards the cat.
Like we said before - there is only one way to go!
---
Anders T

F430 2008 Black/Red.
993 1997 Black
Join Date: Jul 2009
Ferrari Life Posts: 6
this is how mine looked like..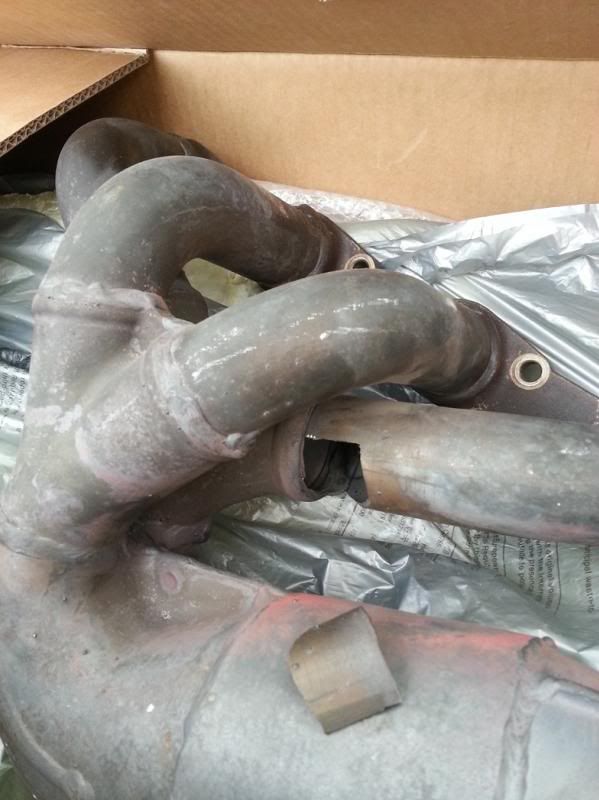 Posting Rules

You may not post new threads

You may not post replies

You may not post attachments

You may not edit your posts

---

HTML code is Off

---