C.Bond - New Member recent 1st time Ferrari owner
---
Hello to everyone! Just wanted to say I have been in the Automotive Industry most of my working life...have owned and been a part of many different types of Automobiles and Car Forums...
That being said - this Website was the single largest resource of information I could have ever had the privilage to use before making my recent purchase of my first Ferrari.
Although I consider myself pretty savvy...moreso than most because the Car Business is my life...when it comes to a vehicle purchase, I am also the worst customer I have ever met in regards to researching, stressing over, nitpicking every detail of any vehicle I have ever bought.
This site helped me purchase what I was calling "My Ferrari" ....after having had it for a couple of weeks now....that has changed to "My FIRST Ferrari".
Thanks to everyone (Staff and Members) for making this wealth of knowledge and personal experiences available for guys like me.
And Now - Some pics!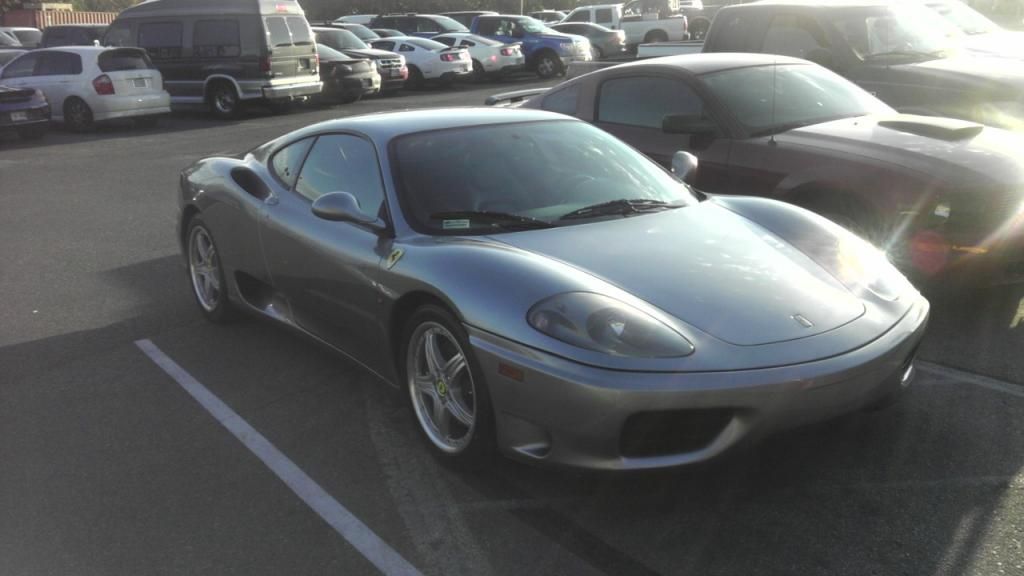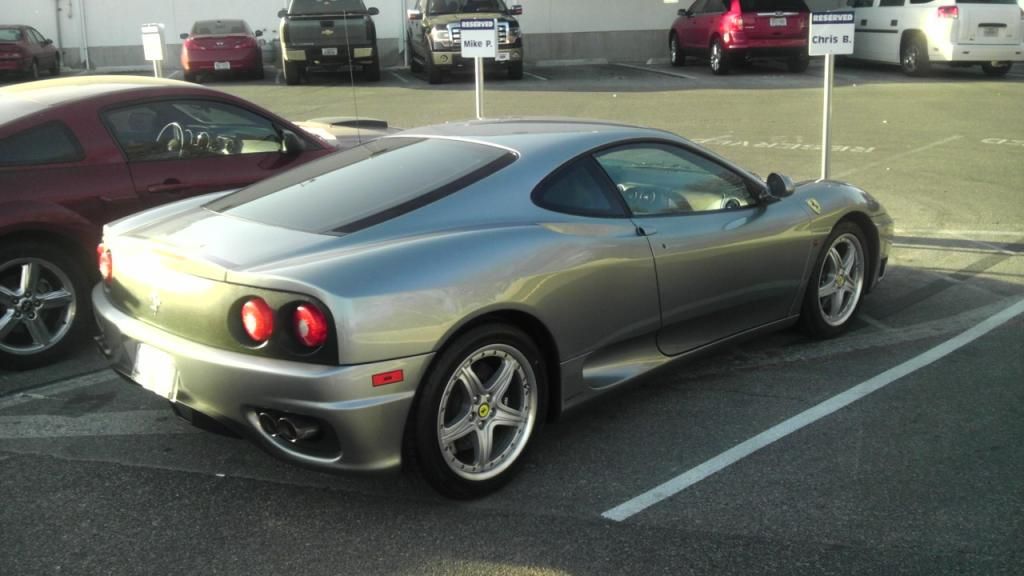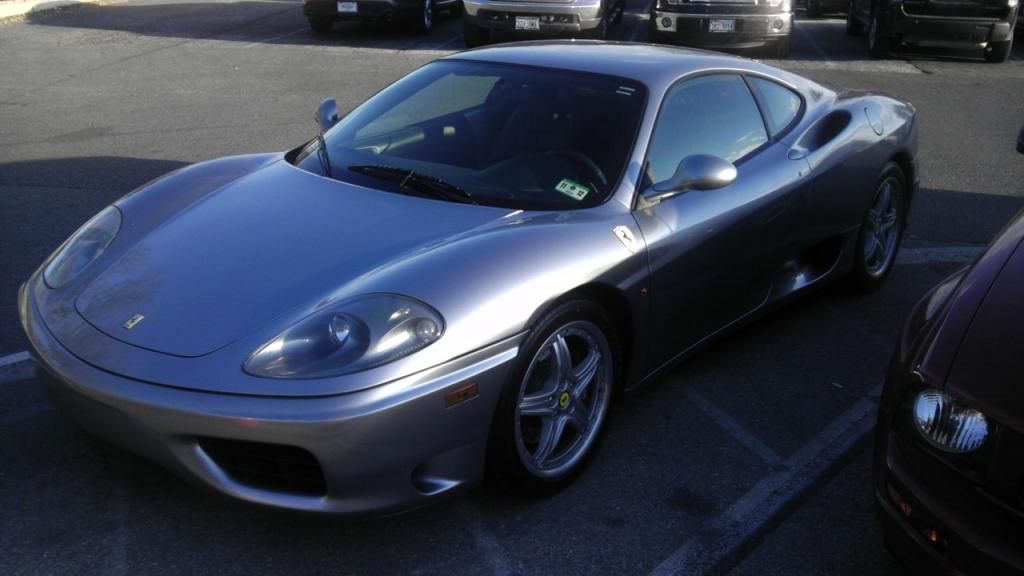 Welcome "C" & enjoy your car!
---
'99 550, Rosso Corsa / Nero, S/N:114654, Assy: 31836, Engine: 52084

High mileage, low compression, and missing on a few cylinders.....just like my cars.

Maranello Skunkworks Team Member
Join Date: May 2010
Ferrari Life Posts: 3,335
Welcome and congratulations Chris. She's a beauty and looks to have all the right options.
---
Of all the narcissists I know, I love me the most.
Killer....credit to this site once again for pointing out the options to look for.

I am just now starting to figure out the little idiosyncrasies the car has...none that are bad or that concern me.

I will say I am still getting used to the F1 Trans....mainly figuring out the best way to accelerate from a dead stop in first gear at a resonable pace and not put too much wear on the clutch, or modulate the throttle to much.

Other than that....grinning from ear to ear.
Congrat C.
And welcome to F Life.
Enjoy your new toy in good health.
---
Ferrari's: 360 Modena, 550 Maranello
Ex's: Dino 308 GT4, 612 Scaglietti
The Rest: Rolls Royce Silver Shadow, Porsche 911 2.7s, Porsche 911 3.2 Carerra, Ducati 916... and the Land Rovers
congratulations and that's a great first choice .
---
Guide to the Galaxy: Don't Panic
Rik -- LAH !


Current:
Past:
1990 Mondial T Cabriolet SN 86247 : Red/Tan
1995 456 GT 2+2 SN 99987 : Roso Metalizzato [Fer 311/C] & Tan
Beautiful car. Congrats!
---
Maserati GranTurismo MC - Giallo yellow
Porsche 911 GT3 RS - black with orange accents - wife's car
F355 Berlinetta - Giallo Modena, 6-speed manual, carbon sport seats -recently traded in
Porsche Cayenne Turbo S
C- Welcome. Beautiful 360 in what looks like Grigio Titanio. Modulars, too. You will get used to the F1 system pretty quickly, but yell if you have any questions.
---
Taz
Terry Phillips

Present: 575M 135171
Past: Dino 246 GT 02984, 365 GTB/4 14009, 308 GTS 25125

Every day I look around, and if nobody is shooting at me, it is a pretty good day.
Questions regarding recent "Front to Rear" Diognostic
---
To Taz or anyone for that matter - couple of questions regarding some things.
My 360 is a 2000 model with 43k Miles at the time I purchased it. She had one real owner....for most of its life.....and knowing this person, it was well loved and actually driven...not a barn-baby. The second owner was someone I trust completely, but he did not drive it much and only had the car for less than a year. Sadly, the original owner is no longer alive - and every service book, tool bag, etc (meaning all factual history) was missing from the vehicle before it was sold to the owner before me. I have since gathered all of the missing pieces....tools/ books (Not the original to the car - but real actual factory books / tools / leather covers etc)......but that does not fill in all of the service gaps.
Prior to my purchase - I gathered as many recipts and details as I could...did a PPI etc...all in all - the deal I was able to make on the car outweighed the missing pieces.
Soooo.... A Local shop here (
DBC Tuning LLC
) in San Antonio....has been highly recommended by a few different F-Car/Exotic etcc... owners that I know as being very reputable in terms of work done / pricing / integrity etc..
Took my new baby to them a week ago to give me a full Diagnostic on what their thoughts were on what has actually been recently done per what I was told and given reciepts for when I made the purchase to the car in regards to maintenance, service etc all having been done in the prior 30 days to my purchase..
We put the car on the lift - took off all of the under-sheating - started at the nose and worked our way to the rear. From what I can tell - we pretty much covered every nut and bolt - good and bad. I was assured prior to purchase that the 30k Service was done in that same time frame....questions about that specifically to follow in post.
Here is the rundown of what was 100% for sure done in the 30 days prior to my purchase on 12/15/12....based on what I personally could see with my flashlight and head buried up the skirt of the lady...LOL
*New Drive Belts (Timing Not Included...more on that further down)
*All Fluids looked to have been replaced, along with all filters, inlcuding the air filters.
*Very Recent Hoses or Very-Good condition of hoses....including Cooling / AC / F1 etc
Things I question:
1.
The Clutch.
We took the bottom plate cover off - he showed me what to look for - tech said "he saw no glazing, chipping etc..overall the clutch plate looked to be in 65-75% life remaining condition...but that he was a little concerned that it seemed there may be a little oil seepage coming from somewhere...because it was along the wall of the inside of the clutch assembly housing." The side closest to the rear of the car. He did say that may be an issue - but that overall the clutch seemed to be in good shape.
Is this something that should be alarming me?? Clutch and oil dont mix...
2.
The Timing Belt.
If I remember his words correctly...He said without taking it (the engine or the belt???) out of the car, it would be hard to know for a fact the timing belt was in new condition.
Is this the case???
Is there a way to tell timing belt life on these without basically having to replace it anyway? If so - what kind of mileage and time should it have been changed, or should I change it now since I am not sure exactly if and when it was done??
3.
Oil Seepage.
I have heared from many people that all is well with a little oil seepage from certain spots on an F-Car....and the time to REALLY be concerned is when you see none at all on a Ferrari.
Is this the case? And how much is too much??
4.
The F1 System.
Is there a simple (respectively) way to tell if my F1 System has had any upgrades, has problems, etc....if nothing from what I can tell is actually wrong with the system? Out of all the reading - I guess this seems to be the biggie in terms of "when it goes, its gone....and break out 15K for a new one" other than a broken timing belt ruining the engine.
Is there any way to diognose early and repair before a replacement?
5.
Drive Axle - Passenger side.
CV Boots looked to be in good shape - no cracks or seeping from what I could tell. I may want to re-grease or replace the bearings because there is a faint sound coming from the driverd side rear wheel when Im going around a left-turning curve...but that's normal for any 12 year old car to possibly need.
The scary Bit?
He grabbed the axle shaft - and it could move back and forth (Meaning Toward the engine / and back to the side of the car) by an inch or so!! Surprisingly - once he saw the terror on my face - he didnt act THAT concerned. Basically saying "Dont use it for drag racing - and yes we gotta fix that pretty soon....but its not going to make your wheel fall off. Just be careful with it until we get you a new shaft in and replace it."
Is this accurate? What could be the cause...and Should I be ok to drive with it like that?
Lastly - the thing that concerned me the most.
In speaking about certain things that need to be done and when - I was told by this same tech that a full blown maintenance, including replacing timing belt and all seals/gaskets...NOT including the clutch - would require a full engine removal from the car, and would run me around 10K.
If all of that is true - and the full work that would be done is worth it - fine.....I can swing it....but something on my B-S Radar is going off....and I need some guidance from the F-Life club to help me understand a little better I guess. Like specifically why the engine is being removed....and specifically what exactly is going to be done....in detail!
All in all - love the car - and understood what I was getting into....but there is nothing wrong with getting some un-biased opinions and secondary answers I guess....so any input will be greatly appreciated.
---
Last edited by CBOND2X07; 01-03-2013 at

01:44 PM

. Reason: Title Change
Quote:
Congrat C.
And welcome to F Life.
Enjoy your new toy in good health.
+1 ! Welcome. She is a beauty.
w/ smiles
Jimmy
---
Future: No idea
Present: 458 Italia, 550 Maranello
Past: 365BB x 2, 330GTC
Congrats on the 360 and welcome to Ferrari Life.
New Pics
---
A couple of New Pics from recent get-together: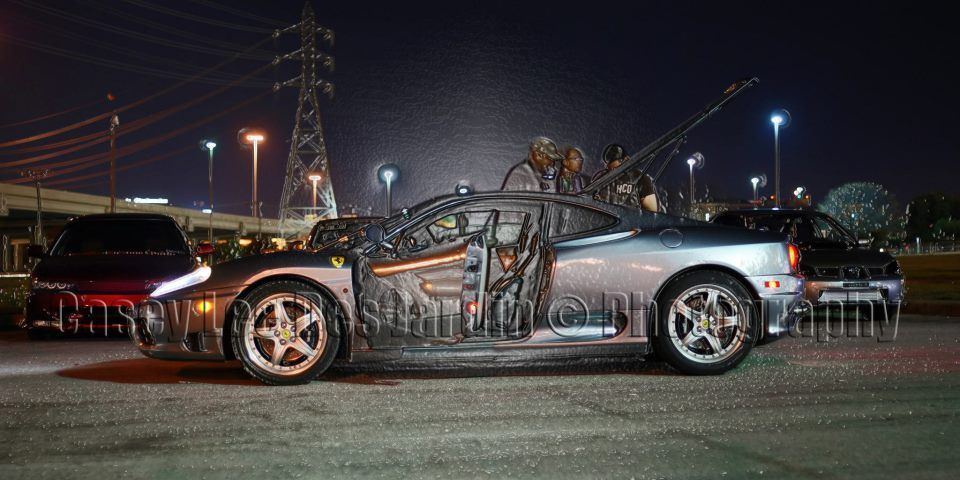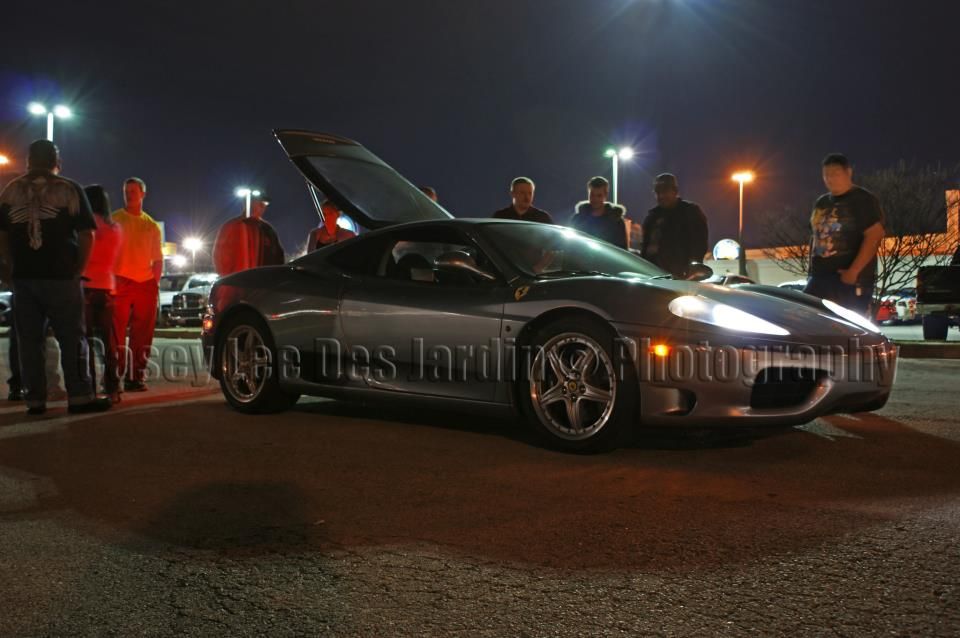 Great car looks super with those rims.!
Enjoy in health and with happiness.
---
Cars
458 coupe normale, California T, Speciale A, 458 GT3, FF Maserati Ghibli diesel!
on way in 2015: La F, and 488, 2016 488 spider
Posting Rules

You may not post new threads

You may not post replies

You may not post attachments

You may not edit your posts

---

HTML code is Off

---