Join Date: May 2013
Ferrari Life Posts: 3
Super Cars,Race Cars, & Exotics Car Show and Black Tie Charity Event June 15-16 2013
---
I believe I am one of your newest members (Larry with the SSC Ultimate Aero, and hopefully soon an Enzo)
We are having a weekend fund raiser on June 15th and 16th in Bucks County Pennsylvania, half way between Philly and NYC, at the retired site of the Johnsville Naval Air Warfare Center.
CF Charities |
The Inaugural Gala and Super Car Show benefiting the CF Charities scholarship fund for graduating students of the Oral Health Academies of Philadelphia and Baltimore. A fantastic weekend of events can have you dining, dancing and bidding at our Black Tie Gala on June 15th and then enjoying a most unique collection of Super Cars and Exotics at our car show on the runway of the same facility on June 16th.
There are a number of up and coming race car drivers, as well as some retired drivers coming. (Everyone else is racing that weekend) The Gala Sat night is in the FUGE, NASA's largest human centrifuge where all of the Astronauts and Test Pilot did their G-Force training. Top shelf drinking, dancing, food, laughter and staying up way too late. Sunday AM, take the cars to the car show. Drive home Sunday afternoon.
Groups are driving in on both Saturday and Sunday morning from DC/Northern Va and from CT/NY areas. Reply back if you want to join a group.
[email protected]
Gala - Sat 6:30pm to 11:30pm
- $300 / person or $2,500 for a table of 10
- Black Tie/Suit
- The Gala is NOT open to the public. It is only for sponsors and owners of the cars that will be on display, celebs, special guests, etc.
- Sean Ringgold is the MC for the Gala (Actor, Motorcycle stunt rider)
- Jack Jacobs speaking (MSNBC Military Analyst, Medal of Honor Recipient, Author)
- The venue is the old centrifuge where they trained all of the Apollo astronauts how to overcome the effects of G-forces.
History
Sun - Car Show
- 8 to 9:30 cars arrive
- Show 9 - 4pm
- We all know Larry's SSC. He wants to get the best of the best at the show.
- Enzo, F40, F50, etc..
- Porsche...GT2, GT3, Carrera GT...stuff like that. Not sure if a Turbo would make the cut.
- Ferrari/Lamborghini/McLaren...all welcome.
- You can display your car even if you do not attend the Gala on Sat, just drive down Sun AM.
- If anyone knows any Super / Exotic car owners and they want to display their car, please chime in.
- Can anyone contact Michael Fux???? I know he has his own charity, but maybe he would join in!
- Show organizers will make the call on if your car meets his needs.
The call to action right now is to register cars, and to try to confirm attendance for the Gala so we can either buy individual tickets or buy a few tables.
To learn more about sponsorships visit:
http://cfcharities.org/supercar/
To learn more about CF Charities visit:
http://cfcharities.org/supercar/factsheet.pdf
We always say that we should do more charity. Well, here is a chance!!!!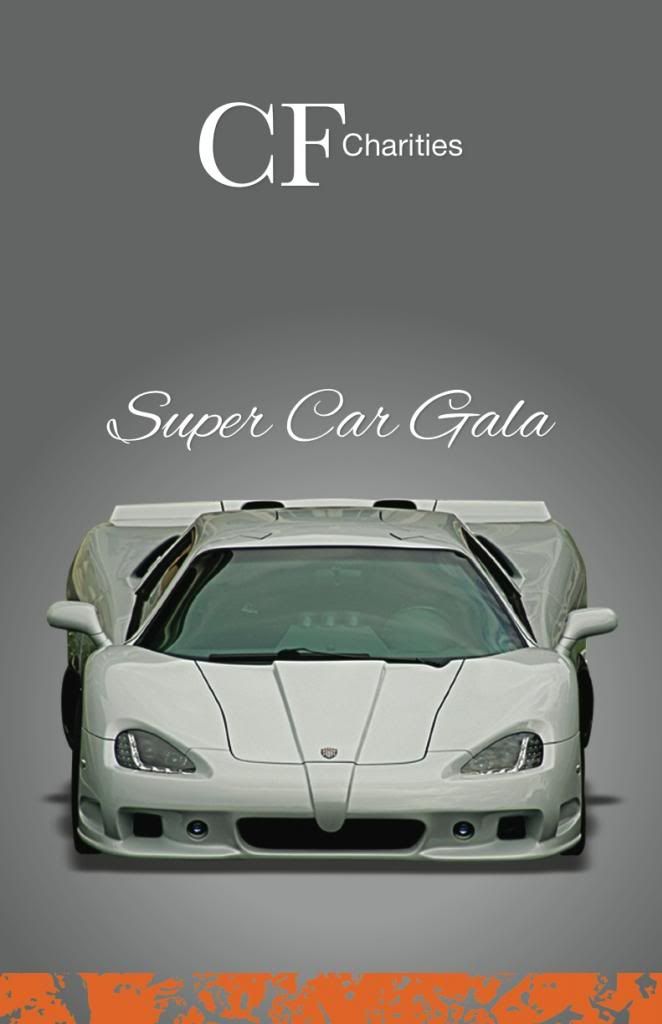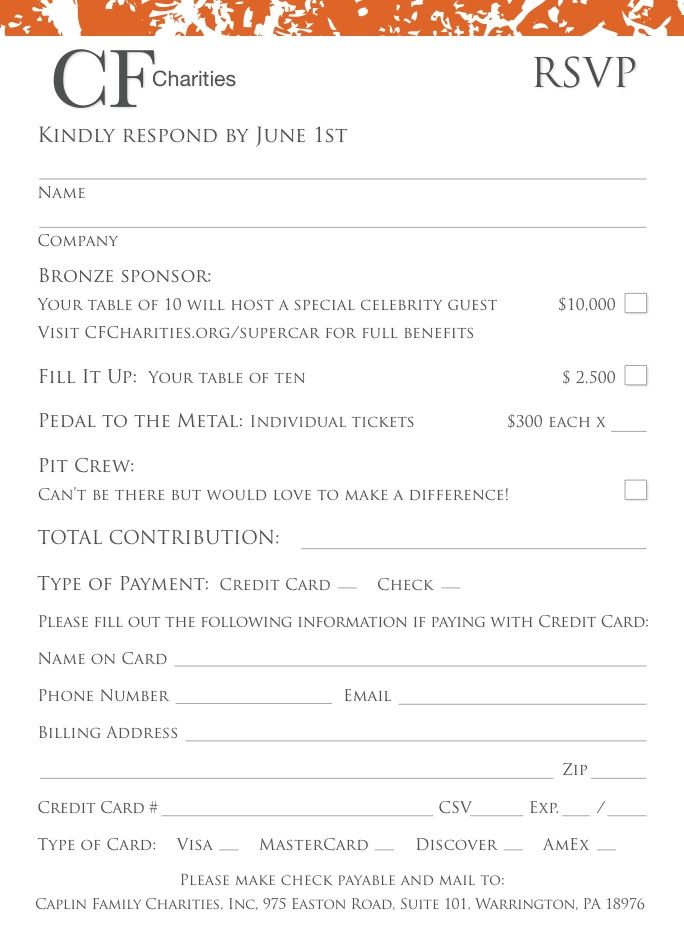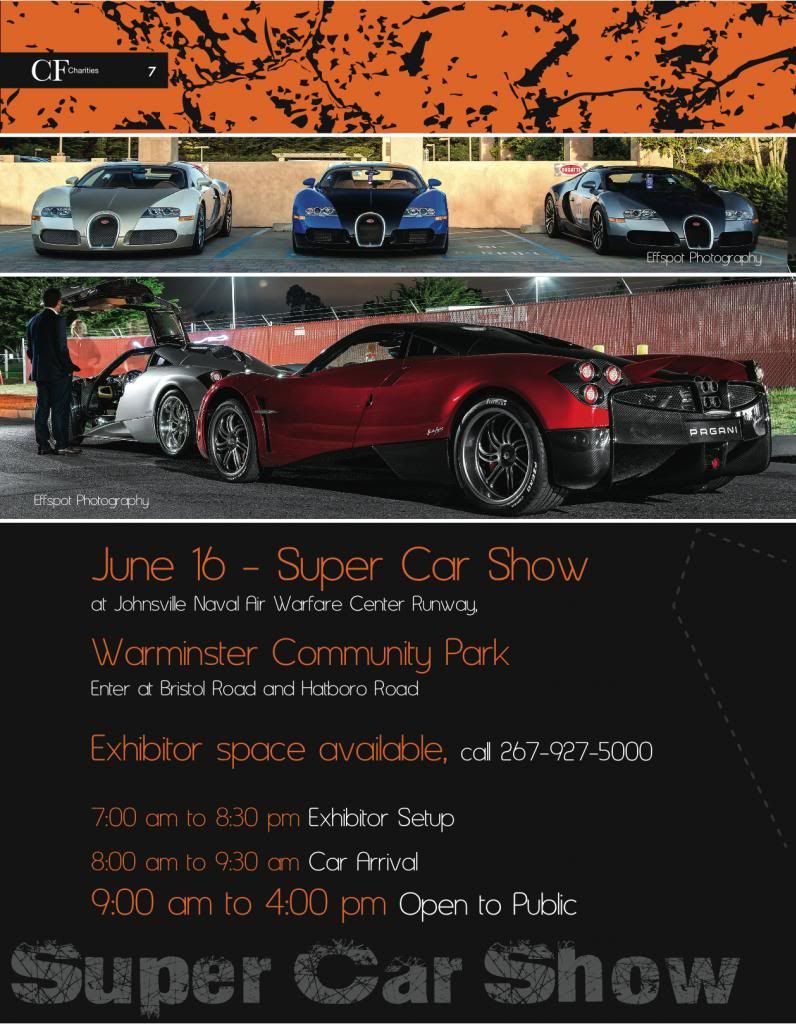 Join Date: May 2013
Ferrari Life Posts: 3
Looking for an F50
---
Lots of Ferrari's coming, but we are still looking for an F50. Anyone know where we can find someone in the NY, NJ, PA, DE, MD area who may participate in this event with one?
Join Date: May 2013
Ferrari Life Posts: 3
Panther Racing just gave us (4) VIP Pit Passes and (4) Rides in their Indy Car to any 2013 Race!!!!!!!
We Pick the race - Sonoma, Los Angeles, Houston, Baltimore, etc...
Panther is the National Guard Indy Car, and they have a 2-Seater Indy Car that they will take us on the track with, regardless of which race we pick. You could be ripping through the streets of Baltimore or Houston, or out in wine country for the Sonoma race.
We will be auctioning this off at the Gala on June 15th. I envision 4 of us going to an Indy Race for the weekend, hanging out in the Owner's Box, In the Pits, down with the driver during the National Anthem, high-five before he climbs into the car, headsets for listening to the team's race communication and in the Pit Box for the race. What an awesome weekend!!!
Posting Rules

You may not post new threads

You may not post replies

You may not post attachments

You may not edit your posts

---

HTML code is Off

---