Join Date: Dec 2002
Location: Switzerland / SF Bay Area
Ferrari Life Posts: 194
430 Scuderia Road Test
---
Modena cars in Geneva lent us their *special* 430 Scuderia and saying that we did not come back disappointed would be an understatement (except perhaps for the reading on our corner scales).
Read on
.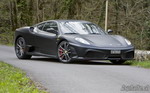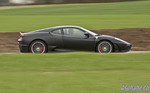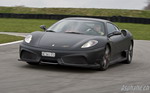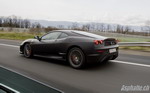 Very nice write up and pictures (despite my very poor rusty French)
Great pictures. The matte black is an awesome color on the F430. Unfortunately I can not read French...not even a little. Japanese yes. I can pretty much guess how it was though
Chris
---
" To accomplish great things, we must not only act, but also dream; not only plan, but also believe."-Anatole France
"Dude, it's just math"-Pete
This car must be a very impressive drive. I like the detailed stitching and that 8.5K red line... It looks very smooth. And that new paint style, nasty!
---
... racing, it's life. Anything that happens before or after is just waiting... (Steve McQueen / Le Mans)
Join Date: Dec 2002
Location: Switzerland / SF Bay Area
Ferrari Life Posts: 194
Great article! Thanks for posting
Chris
---
" To accomplish great things, we must not only act, but also dream; not only plan, but also believe."-Anatole France
"Dude, it's just math"-Pete
Posting Rules

You may not post new threads

You may not post replies

You may not post attachments

You may not edit your posts

---

HTML code is Off

---