Join Date: Feb 2012
Ferrari Life Posts: 1
Ferrari F40 or Ferrari FPhoney?
---
Replica F40... So what you may say
But it is being hired out as a Groom's Wedding car... No mention of replica
It cleverly marketed as "exotic sports car" but the vehicle has Ferrari branding and the blurb on their site even has F40 facts thrown in when describing the thing...
Exotic Sports Car - Groom's Car
For the man in your life, grooms transport, he deserves to be spoilt with the ultimate rare super car. The most expensive and world's fastest street legal production car in 1987, and capable of over 200mph. Its one of those fabulous looking cars that makes people crazy and probably only experience on a computer game. When sold some buyers reportedly paid over $1.6 million for a piece of history! Nigel Mansell was given a similar car with leather interior. Perfect for the grooms wedding car to relax him and bring a grin on his face from ear to ear or just to live a life long ambition. Sports car in Ferrari rosso red... WOW


That's straight from their site. Here's some [tiny] pics: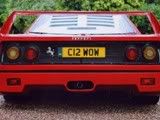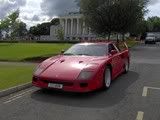 Here's their URL
Classic and Limousine wedding cars in Exeter Devon covering whole Southwest of England
Go to 'our cars' and scroll down to see the dubiously worded description and big pics of the car!
Am I right? is it phoney????
---
Last edited by hydorah; 02-19-2012 at

10:09 AM

.
Welcome to FLife
No more than the 1000's of Elvis running around - went to a Michael Jackson show the immortal tour last week at 400.00 a ticket.
A real F40 would be insane to rent - if that is the next best thing and everyone is happy then so be it.
I know one thing - it will be the cheapest ride the groom will ever have after he arrives.
Go to 'our cars' and scroll down to see the dubiously worded description and big pics of the car!

Am I right? is it phoney????[/QUOTE]

Doesn't look quite right to me but would have been easier had they shown pictures of the interior. I couldn't see prices either except one blurb saying you could hire the "F40" for £185 if you hire a car for the bride. Given that I looked recently at hiring an F40 in Switzerland at that was around £1200 for the day that looks pretty good value!
---
Future: 550 Maranello
Present: None
Past: 458 Italia, 550 Maranello,
365BB x 2, 330GTC
Of course its fake. Sports car painted in Ferrari red. Why wouldn't they said Ferrari F40? Taillights spaced incorrectly, single exhaust tip.... etc etc
That's really pretty sad. People posing with that thing on their wedding day, etc. Why doesn't the company just buy a decent 308 or something that everyone will immediately identify - at least it'll be the real thing.
Quote:
100% fake. It looks horrible, probably drives worse.


Onno
Really bad. Horrible thing.
Posting Rules

You may not post new threads

You may not post replies

You may not post attachments

You may not edit your posts

---

HTML code is Off

---