Join Date: Mar 2010
Ferrari Life Posts: 21
F430 vs. Murcielago?
---
I'm looking to spend about $150K on a car end of next year....
I had my heart set on a 2007 F430 Coupe or an 05 F430 Spider, but perusing ebaymotors I found this gem:
And its a 6 speed too!
2002 Murci with 14K miles, $138K...
And then there's this one for $144K... 04 Murci with 8600 miles: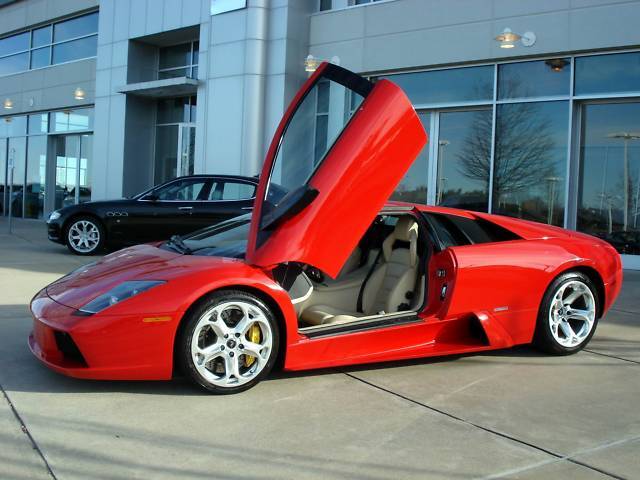 As long as the service has been up to date... what would get next year if you were me?
Decisions...Decisions...Decisions...Decisions
---
_________________________
All my friends who own Lambos say the service costs are shocking.
Join Date: Dec 2007
Location: Regina, Canada
Ferrari Life Posts: 2,112
Quote:
All my friends who own Lambos say the service costs are shocking.
Ditto, although the Gallardo and Murci are way better in the reliable department than the older models.
---
Night life........ain't a good life........but it's my life -- Willy Nelson
Join Date: Mar 2007
Location: Grass Valley, CA USA
Ferrari Life Posts: 167
Mark,

What are you using the car for? Weekends, Sunday Drives, Trophey or Driver?

The end of next year is about 2-centuries away in this financial enviroment.

ncng
these are very different cars. On is a gt and the other a sports car. I have owned a 12 cyl lambo and an 8cyl ferrari and they are really very different experiences. The lambo is a much "larger" car. More suited to high speed runs and showing off. The ferrari is more for driving through the twisties on a sunday morning. You should also be able to get both cars for quite a bit south of 150K. Specially in a year. Tell us more about what you would like to do with them. I don't imagine the repair costs on a murci will be out of line with the 430. Both are pretty reliable cars. Both are very pricey to repair. Luck has a lot more to do with it. Now a diablo or a countach......
150K opens up a lot of options. another thing to consider is depreciation. both of these cars will be on the way down for some time to come. I'm much more of the mind to catch something on the way up, not down.
100% free webcam site! | Awesome chicks and it is absolutely free! | Watch free live sex cam - easy as 1-2-3
Join Date: Mar 2010
Ferrari Life Posts: 21
The reason I say end of next year is because I just sold a piece of office equipment that I was paying $1800 a month on and also sold my Z06 that I was paying $1100 on.... I'll be putting that $3000/mo away saving for a $50K+ down payment towards a car and hopefully only finance about 100K.

Purpose... just a weekend "date night" car, and the "look at me" factor... IF I could find one within my price range, a Murcielago Roadster will win. I'm not into drag racing, and although I do live in the rural north Georgia mountains with twisties literally past my driveway... A car like a Murci or F430, I've seen too may idiots lose it and go off the shoulder.

I guess for me, I want the most rumble sound and pizazz factor... hmmm... 12 cylinders vs. 8... tough call.

In the end, when I have $50K+ to put down and my pocket's on fire, I'll probably choose a car based upon whats currently on the market that fits my budget... I guess my reason for asking here is to help me decide if I really want a Murci, maybe I should just hold out longer and keep saving til I find the one I want? Also, as Ferrari afficionados, considering a pre-owned vehicle... what would float your boat more and give you the "gawk factor", Murci or F430?
For flashiness, definitely the Murci. Personally I don't subscribe to buying a car to impress other people, but I'm not here to judge.
The V12, the wing doors, the outrageous styling... an F430 doesn't stand a chance in a glam contest. I like the Murci a lot, but I also have heard servicing cost is really bad. I do think you'll lose a reasonable amount on depreciation, too. This, in my mind, makes financing a car like that not the best option.
Oh - finally, I think that car looks really good in red. 6-speed shifter, too, a really nice car I think.
Onno
Never pay again for live sex! | Hot girls doing naughty stuff for free! | Chat for free!
Looking at that pic, wetpet, I cannot make up my mind whether the girls are more happy than you or the other way around ? Well, at least you are all having fun. w/ smiles Jimmy
Quote:
it was me by a long shot.
back at the clubhouse they said it was a "short" shot.
Join Date: Mar 2007
Location: Grass Valley, CA USA
Ferrari Life Posts: 167
For Mark I think this is his car, Diablo Roadster, more show then the Murcielago, no depreciation, close to being paid for.
Option 2 mite be a Red Head (Testarossa)
ncng
Quote:
After reading your post i would go with the murci. Might want to consider a diablo roadster. I think it has even more of a bling factor than the murci and has already bottomed out. I had mine for two years and didn't spend much on it at all.
Posting Rules

You may not post new threads

You may not post replies

You may not post attachments

You may not edit your posts

---

HTML code is Off

---