Couple of recent pics of my 308 GTBi, #32957
---
Nothing really new here; just have been enjoying the 308 a bit and pulled off a couple of photos recently. Thought they were worth sharing.
First photo is at home, upon finally pulling the car out of winter storage. We have a huge old lilac bush that blooms in May and it was my intention to grab a good shot, but like last year, I missed the majority of the blossoms. Oh well. I thought this was a good angle of the car (
but then, a 308 looks good from just about every angle!
).
Second photo is in Cleveland near the E.55th Street pier last Saturday. Cleveland finally has a "Cars and Coffee" gathering going on the first and third Saturday morning of each month (PM me for details if you're in the area). I wound up hanging around for brunch with a Lotus Europa owner after everyone was leaving, so here's the 308 in the empty parking lot . . .
(
By the way, those are insects, not stone chips! I drove 120 miles in the morning from Toledo to Cleveland for the gathering!
)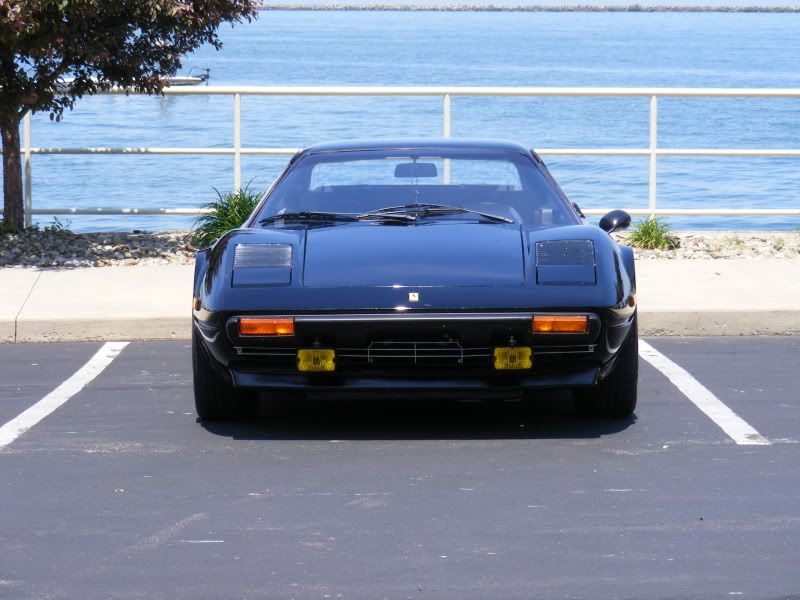 That's all for now! Nothing else really new!
Cheers,
Tony
---
Tony K.
1980 308 GTBi
these cars just look great: Yours is a classic....BTW, didn't the 308 have a Cavallino on the front grill? I thought they did.

rik
---
Guide to the Galaxy: Don't Panic
Rik -- LAH !


Current:
Past:
1990 Mondial T Cabriolet SN 86247 : Red/Tan
1995 456 GT 2+2 SN 99987 : Roso Metalizzato [Fer 311/C] & Tan
Thanks, Rik.
Regarding the Cavallino, I'm under the impression that the European market cars did, but the U.S. models didn't; also, there is no trace on my grill of there having been one . . .
- Tony
---
Tony K.
1980 308 GTBi
the 1st picture is one of the best I've ever seen of the 308, looks FANTASTIC! congratulations!!

my bike is also full of dead insects in the front hehehehe it's the price we pay for all the fun on the road, right?
---
"When the going gets tough, the tough get going." - J. P. Kennedy
Join Date: Apr 2006
Location: United Kingdom
Ferrari Life Posts: 3,928
From one nero 308 owner to another, it looks stunning Tony
I do love the lines of the GTB, I've never been a big fan of the window vents on the 3x8 GTS's.
---
Archie
Posting Rules

You may not post new threads

You may not post replies

You may not post attachments

You may not edit your posts

---

HTML code is Off

---