Join Date: Jul 2010
Location: West of Ireland
Ferrari Life Posts: 184
My cnc mill is alive
---
I hit cycle start on my first part on Sunday. Nobody was killed, nothing broke but I did flood the shop with coolant
Ive wanted one of these for 20yrs. Its a good feeling having one at last.
That is all
Brian!
---
If you think you can't you wont, if you think you can, you will
Congrats!...and I'm sooooo jealous!
Brian- Progress. You are making metal shavings and cooling your shop floor. Next, making shavings and not cooling your shop floor. One step at a time. We have faith in you.

How about some photos?
---
Taz
Terry Phillips

Present: 575M 135171
Past: Dino 246 GT 02984, 365 GTB/4 14009, 308 GTS 25125

Every day I look around, and if nobody is shooting at me, it is a pretty good day.
Join Date: Jul 2010
Location: West of Ireland
Ferrari Life Posts: 184
Mark, I still reckon you'd beat the socks off it with a manual machine
Taz, thanks for the faith
I took your advice and shot some photos. When I had them taken, I realized I had to describe some stuff, and started typing. It ended up pretty long but what the hell. Some may be interested sure(or_not!)
Wetpet, your lucky to have the use of a bridgeport. They are amazing machines as you know. I did sometimes find that I spent as long making jigs, as I did thinking about parts, so 'hopefully' the cnc will cut down jig times a small bit.
Heres a bit of a long winded story of the cnc dream below!
Before Christmas, I finally put that dream to reality and went out and bought one.
I had looked at a lot, the newer ones have pros, and cons. Pros are they are newer, and shiny. But, the new machines have pretty small beds for the money, if you want good travel, you go into insane money fast. I also always loved the movable knee on the bridgeport for doing high work.
I went out with all that in mind and bought a hurco. It had very little done, had been painted, and was used by people that didn't really know how to use it for the last yr hence the digs on the table. There is 3 digs, but Im fine with that. The machine is wear free.
I then gutted the machine of all its electrics as they were added to in spots.
Since the machine is at the bk of my house, I wanted peace of mind in that area.
I retrofitted the entire machine with new parts. I used,
an average new pc/board, incl powersupply.
A pmdx 126 breakout board.
Gecko drivers.
Digikey amt 102 encoders for the x and y original servos.
A nema 34 high torque stepper in place of the z(quill servo) The quill servo although fine, was hard to tune, and get settled at idle. On stripping it down, I found one coil burnt.
I looked at servos and they are insane dear new. So, I bought the stepper. I know they are slower for peck drilling and such, but its fine after testing it a fair bit the weekend.
I removed the original boom arm and made a new one. This houses the glass covered screen, flipout dust proof lid, and the keyboard. The new console was born...
I used the old transformers to drive servos. The gecko motor drivers called for a little lower voltage, so I removed 4 windings to bring the secondary voltage to where I needed it.
That feeds a power prep module(converts to dc and some other stuff) that then feeds the drivers.
The whole thing runs off twin parallel ports.
It was a pretty big job, I had to relearn all the stuff I once sort of knew!
The machine runs mach3 which I find great.
Im running cambam as the drawing tool for the time being as its fine for what I need to do over the next while.
I changed the coolant tank, from the base, to a new tank I made under the left cabinet.
I also fitted a single phase spindle motor to the machine. This took an hr of thinking, as the 3phase is pretty integrated as you can see. I removed cooling fan from 3phase motor and put a pulley on there. A few bits of metal, and some paint and I had a running single phase spindle.
I also had to refit the coolant pump and all lines as it was 3 phase also. The single phase coolant pump motor I got could not be reversed so I had to remake another Impeller for pump from some brass. This was made by hand for fun, and took some time, and some solder...but it works great.
Since I was also redoing the pneumatics of the machine(needed for brake) I built a mister nozzle too.
I kept some manual controls on the new console, some like this, others dont. It saves writing it into programme for coolant control, plus, I like buttons...
There is a small catch can at the end of the bed pipes to give you a chance to fish out small parts, or nuts should they get washed off the table. It works, and saves you fishing in main tank. There is also a swarf filter in the corner of the tank where the coolant drains in. The filter section unbolts from the cap.
I redid the drains on bed too.
Having run a few parts, I can say they work as I want. The perspex shields keep it all under control. All my work is small anyway. For bigger stuff, I can deal with a few splashes.
I made a small shield for one of the coolant nozzles too. The shield is through hole, keeping the nozzle functional when fitted.
I did some trial cuts to set up the machine and confirm accuracy.
You can see a test part being cut towards the end.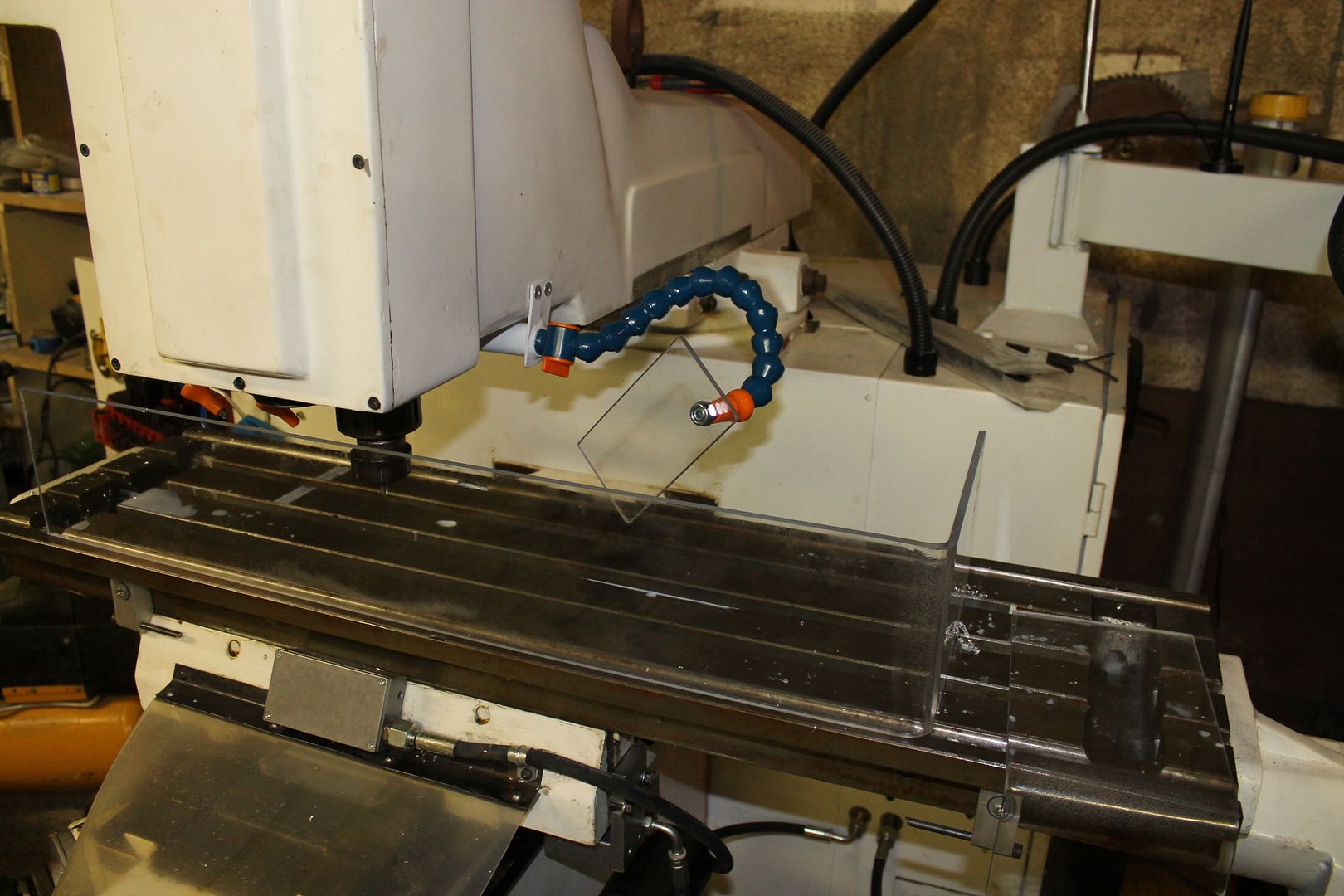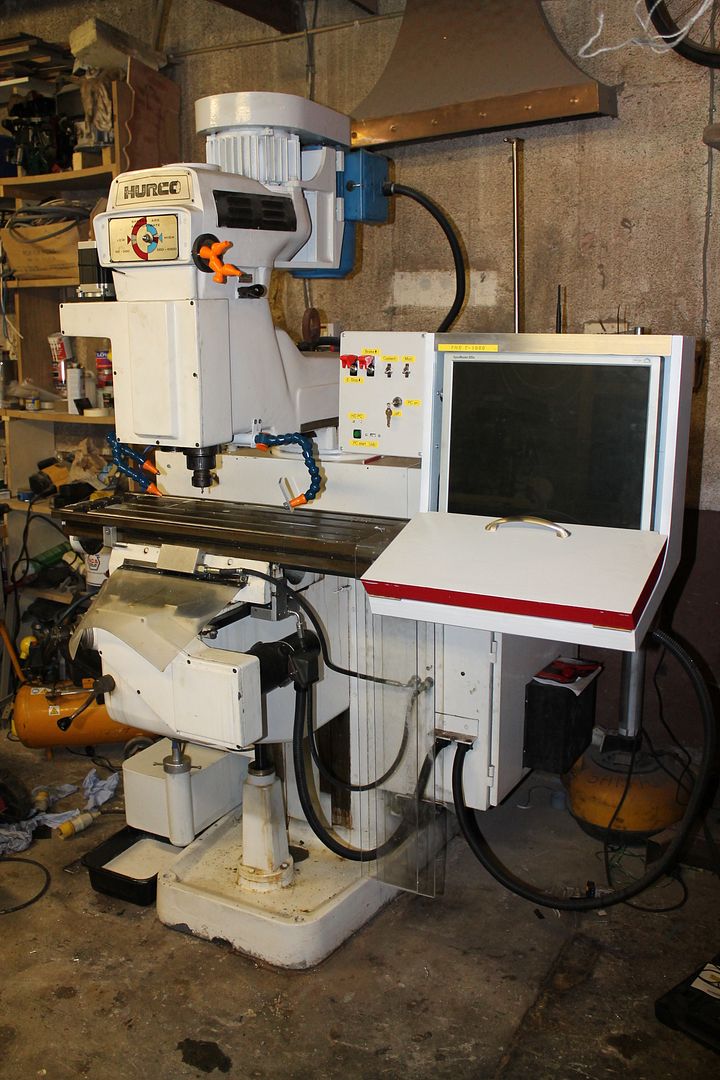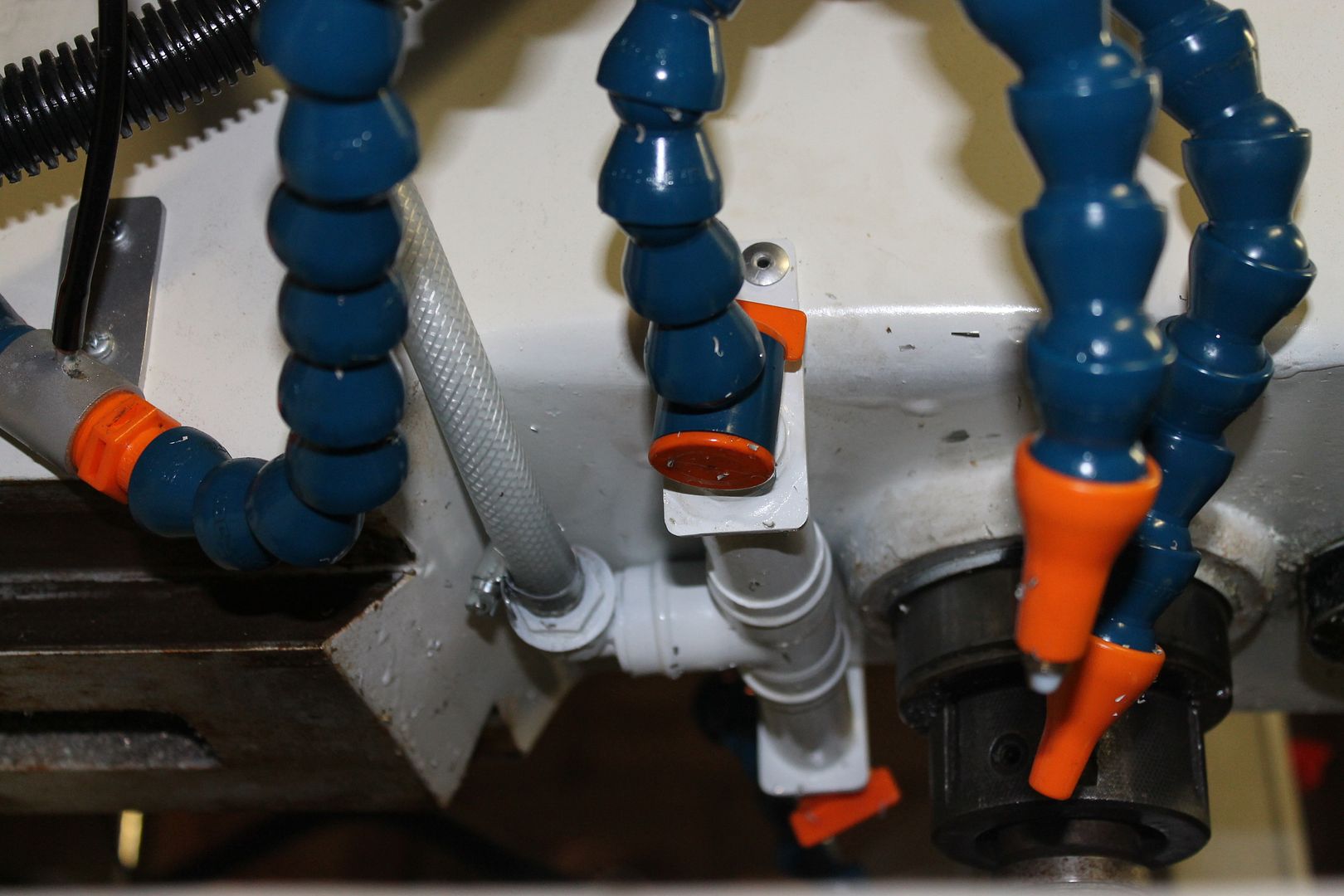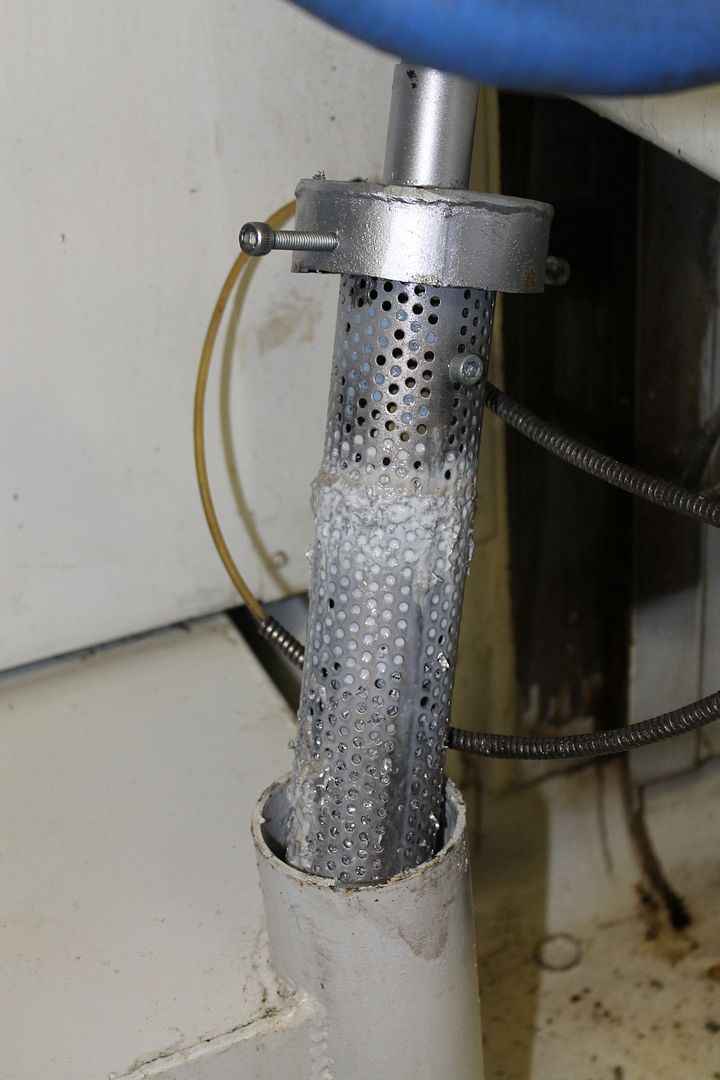 I have yet to tidy wiring a little, add some ferrites and add a faraday cage around transformer. The 'important' wiring is high grade double shielded twisted pair robotics grade wire which cost a fortune. But, worth it, as Im seeing no noise at all on the encoder lines.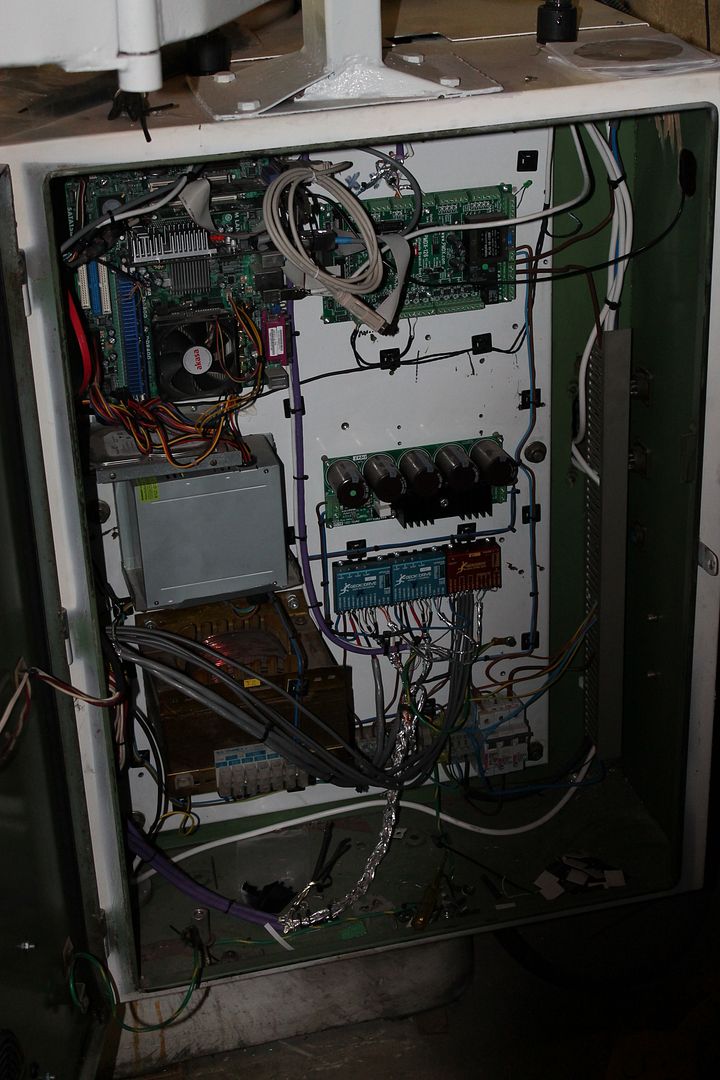 The motor adapter frame I had to make,
The new impeller, 5 hrs work in that! If I was to cast it there would be just as much work in the pattern, so I said I go right to brass,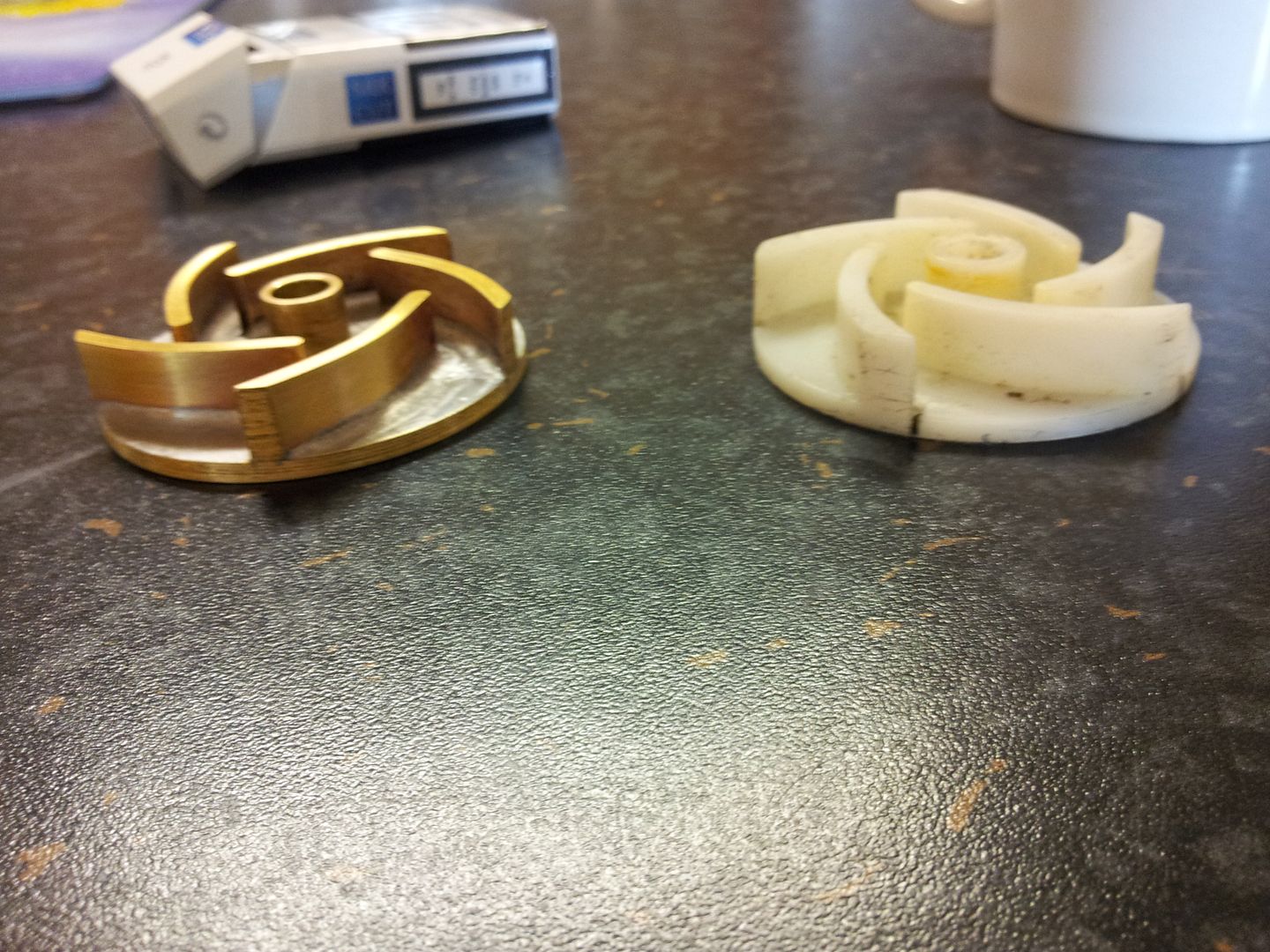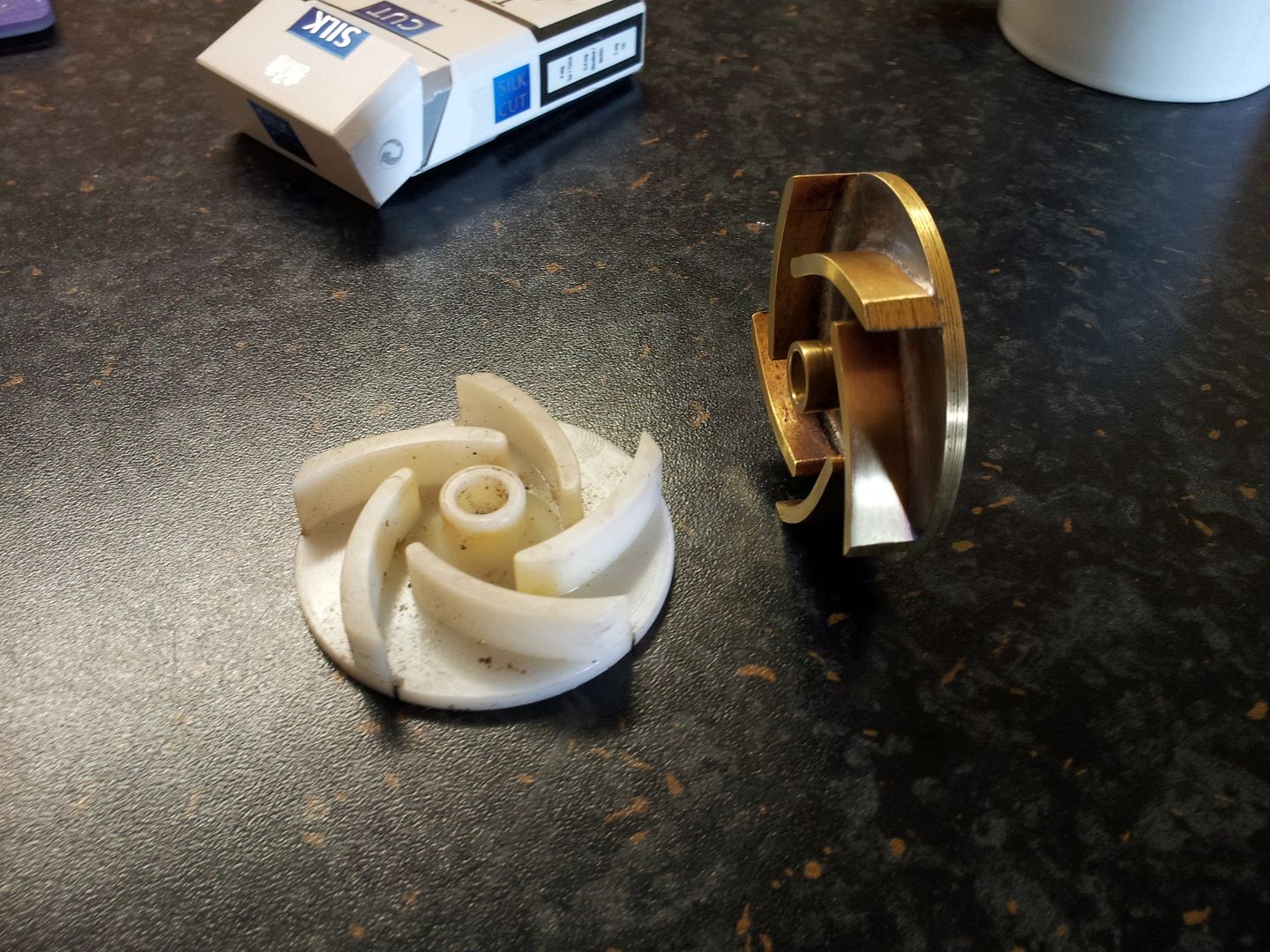 The first proper test part, I used wood as splash shields for this run, as I hadnt yet got the perspex ones done at the time,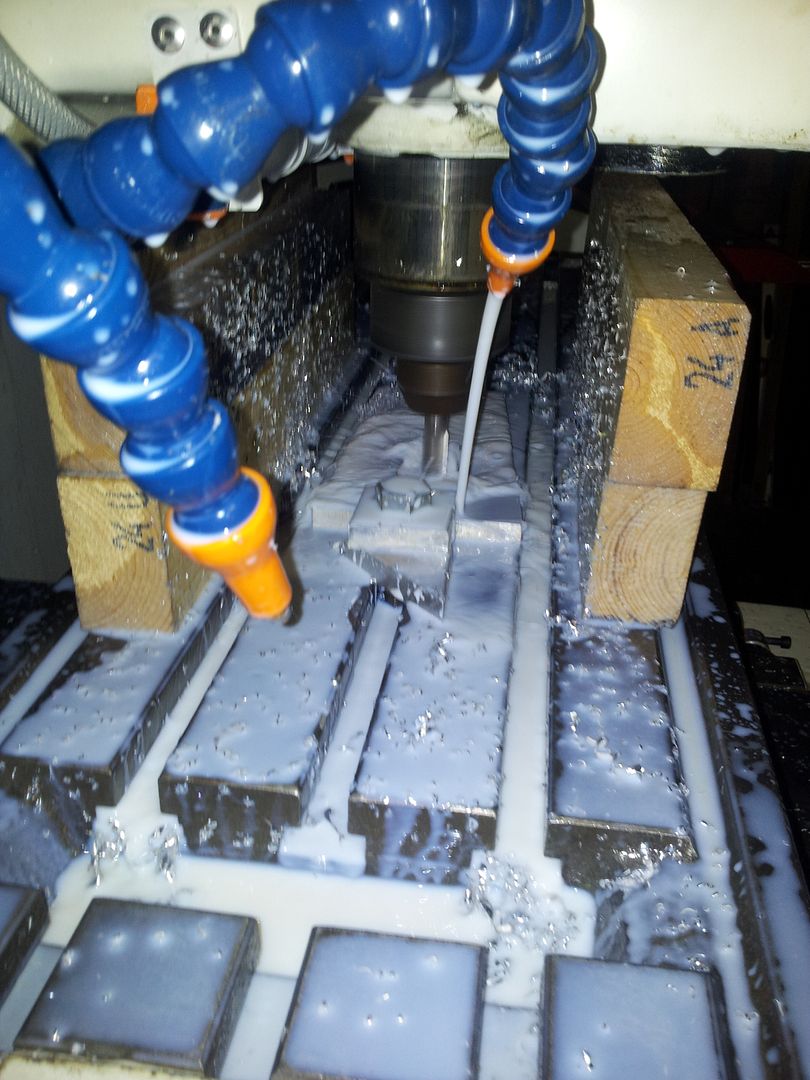 huba huba!!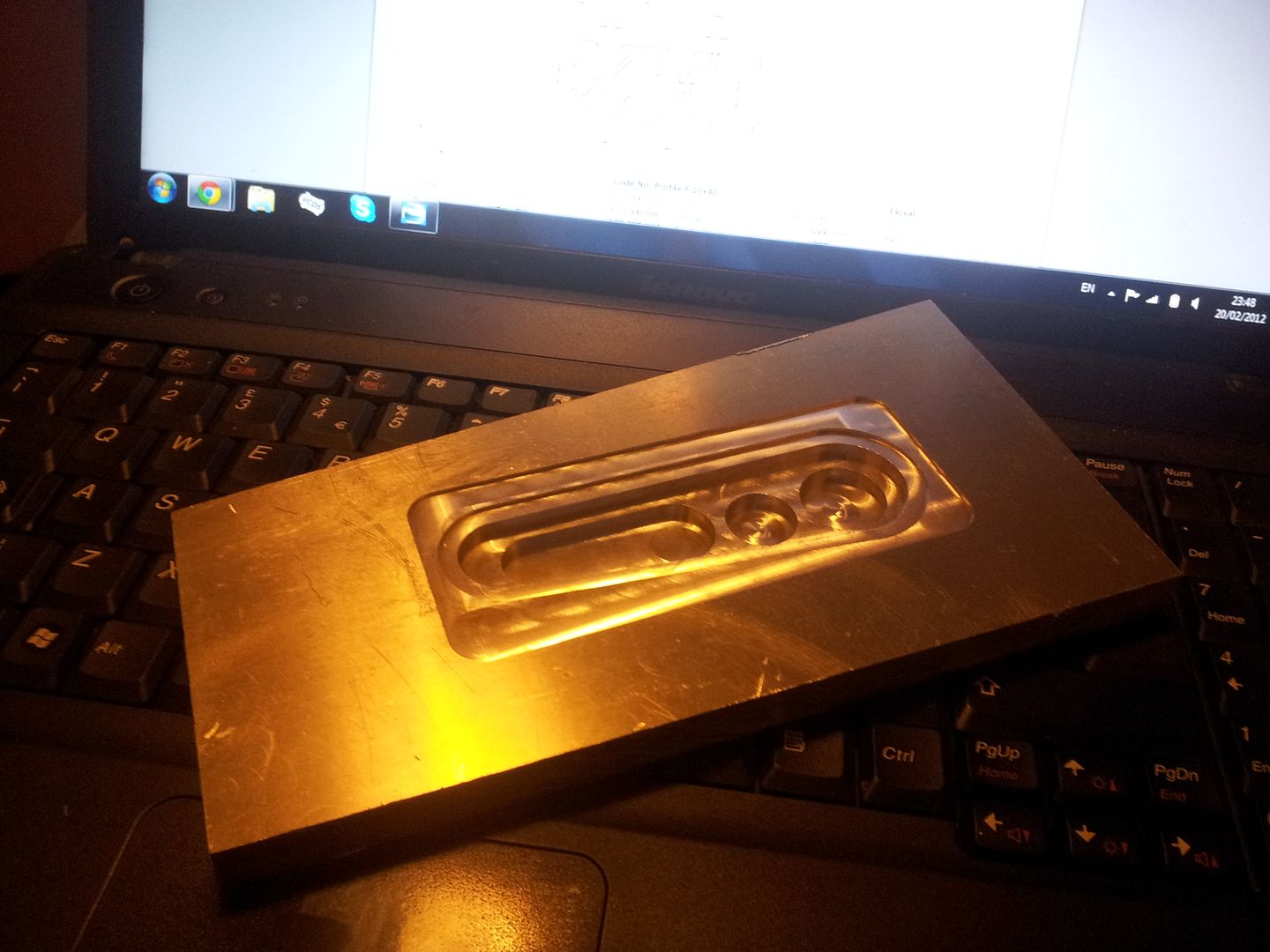 Next plan is to make a 4th axis to give me more freedom. This will consist of a headstock type setup, running a stepper, and harmonic drive.
Got there at last!
Brian,
---
If you think you can't you wont, if you think you can, you will
Brian- That is a really nice set-up. One of my hobbies is clocks and your machine would be perfect for pumping out clock parts for my English lantern clocks.
---
Taz
Terry Phillips

Present: 575M 135171
Past: Dino 246 GT 02984, 365 GTB/4 14009, 308 GTS 25125

Every day I look around, and if nobody is shooting at me, it is a pretty good day.
Eish!
That's a machine alright!


South African expression denoting
Excitement
Agreement
Surprise
Join Date: Jul 2010
Location: West of Ireland
Ferrari Life Posts: 184
Thanks for the comments lads! Getting used to it now and slowly turning the feed speeds right up to what its built for
Flooded workshop again tonight, 25 liters to be exact.
Job for next week is to build a full enclosure with sliding doors. That way I can up the coolant to max, and blow away every last chip.
Slowly but surely...and a wheel barrow of sawdust later....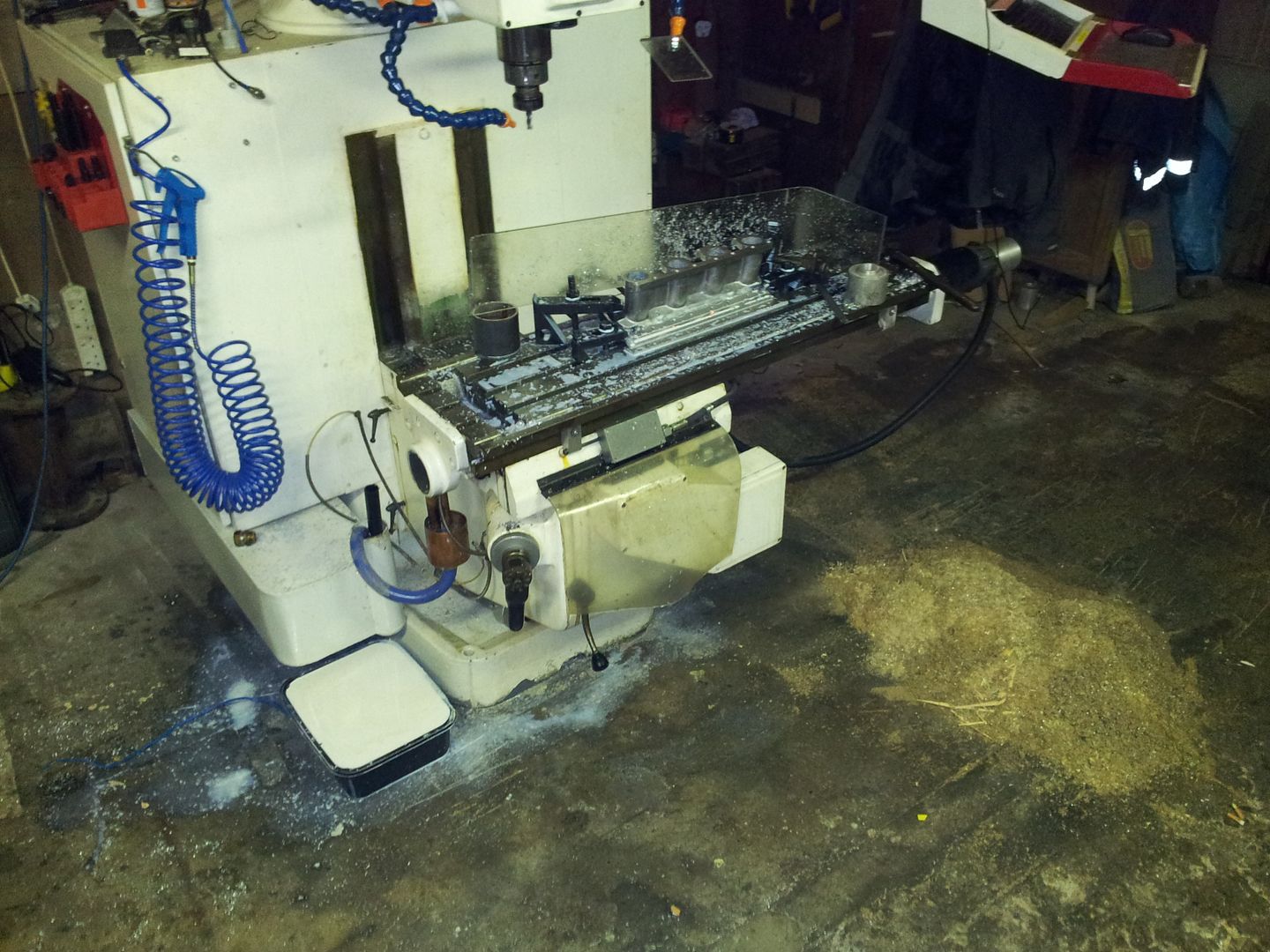 Brian!
---
If you think you can't you wont, if you think you can, you will
Posting Rules

You may not post new threads

You may not post replies

You may not post attachments

You may not edit your posts

---

HTML code is Off

---