A proud father Son moment
---
Working away at the Lancia and in comes Son.
"Daaaddaaay, can I play with you in a garage"?
"Of course".
"Me like sitting with you in a garage".
Sat for an hour almost, telling me all sorts of stories (at least 3 times over). It was a great moment for me and looks like he's going to follow the Italian car tradition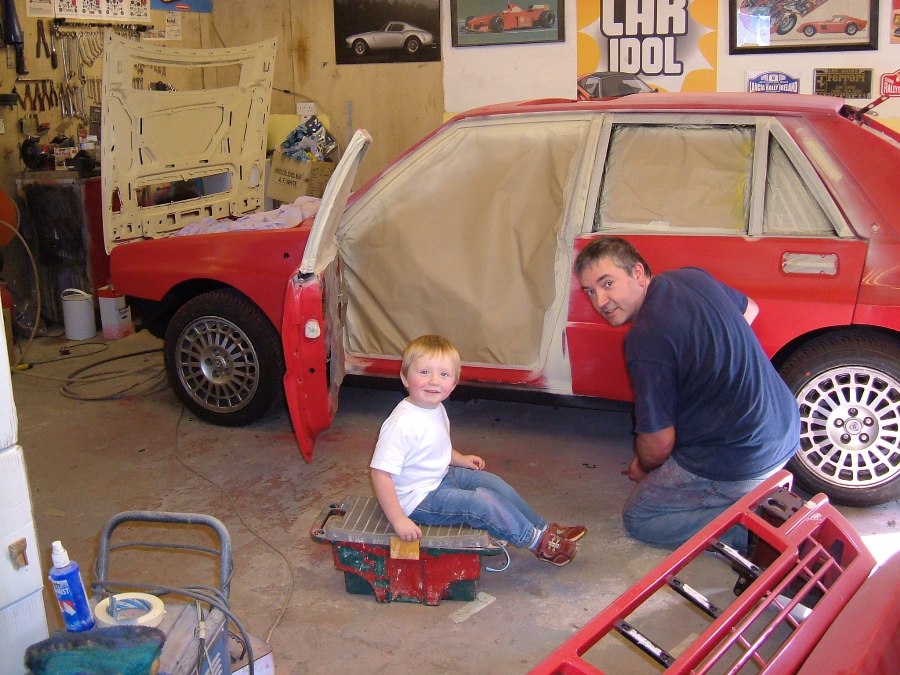 That's a great pic, ENZ9 1, very lovely, indeed. Your son is wonderrful ! Thanx for posting the pic. Also enjoyed seeing your toy room. I suppose your wife took that shot ? w/ smiles Jimmy
very cool!!!

for sure a moment that deserves to be registered!

thanks for sharing with us
---
"When the going gets tough, the tough get going." - J. P. Kennedy
Join Date: Apr 2006
Location: Northern Ireland
Ferrari Life Posts: 594
Thanks guys. I am pretty pleased about it. He just pulled the little seat thing over, gave me a big slabery kiss, and pluncked himself down.

Yes Jimmy, Missus went to get the camera so we could capture the moment.
Join Date: Apr 2006
Location: United Kingdom
Ferrari Life Posts: 3,928
Lovely story and photo
I know what it feels like, my son has been my shadow since he was about 18 months old. He's never been interested in football or any other sports, just cars, cars and cars. For years he's been hooked on every kind of wheeled sports, F1, GT racing, Touring Cars, Brit Cars, WRC, Formula Renault, GP2, Formula 3000....etc, plus the extreme stuff like BMX and skateboarding.
Whilst most kids his age watch kids TV and cartoons, he watches re-runs of Top Gear and 5th Gear on the Dave TV channel or the internet.
I'm sure your young man will grow up to be a petrolhead too
---
Archie
Join Date: Aug 2009
Location: northwest england
Ferrari Life Posts: 53
lovely picture,brings back fond memories of myself and my late father in our garage!he was an m.g man,but used to buy me a polistil every year,he got me and bro 2x 308's and stratos's! when your cars finished take him out as often as you can ,he'll never forget driving with his dad as long as he lives!
Join Date: Dec 2007
Location: Regina, Canada
Ferrari Life Posts: 2,112
Awesome mate, a true Tifosi
---
Night life........ain't a good life........but it's my life -- Willy Nelson
Join Date: Apr 2004
Ferrari Life Posts: 1,516
That's very good Stu
Make sure that the kid knows about proper things in life. Not that fake paris hilton, idols, so you think you can dance, plastic, shallow bull-crap that's out there. I'm not a very good people person (I hate basically everybody) but having a good relationship with my dad is very important to me. I'm not on the same page with him on many, MANY issues, but we do share a love for cars and all things car-related and that's the crazy-glue in our relationship.
That's how it starts: My wife rebuilds cars, and son would be under there 'handing' tools etc....he's now a Marine doing Aviation electronics .... that young'un will have something he'll fall into..
ESPECIALLY IF daddy let him have that car later
---
Guide to the Galaxy: Don't Panic
Rik -- LAH !


Current:
Past:
1990 Mondial T Cabriolet SN 86247 : Red/Tan
1995 456 GT 2+2 SN 99987 : Roso Metalizzato [Fer 311/C] & Tan
Join Date: Apr 2006
Location: Northern Ireland
Ferrari Life Posts: 594
Thanks guys for all the kind comments. I wasn't sure about posting it but glad I did now.
Looks like I might have to keep the Lancia now though and give it to my son as he's said the same thing Daughter said when she claimed the 500 years ago, "is that my car Daddy".
@ Nite life. Both my kids are turning into true Tifosi I think. Won't miss a GP and as soon as the titles start they both shout "MASSA" and point at the red cars, just like I did when I was their age.
@ Archie. Being my kids if they don't grow up being petrolheads there'll be something wrong
@ Bas. Unfortunately my Dad and myself have grown apart a lot over the years. Something I'll make damm sure never happens with my kids.
Posting Rules

You may not post new threads

You may not post replies

You may not post attachments

You may not edit your posts

---

HTML code is Off

---