I got to sit in a California!!!!
---
Our club ran the All Ireland Italian motor gathering yesterday (Sat).
Now I didn't know what cars etc would come along but the last car I dreamt of seeing there was a California.
It started off with a kind of sereal chat with a lady in a gold Peugot around 10 am.
I was arranging cars as they were arriving when the Lady in the above car pulled along side.
"Excuse me", says she.
"Yes, how can I help" says I.
She "What's the event your running"
Me "The all Ireland Italian Motor day"
She "Can any Italian car enter"
Me "Of course, what were you thinking of bringing"?
She "Oh not me, my brother. He's just bought one of those Ferrari's".
Me. "We'd be happy to have him along, have you any idea what type it is"?
She "Oh it's some new car just out, a California".
It took about 10 seconds for me to lift my jaw off the ground and blubber out, "If your brother brings a California I'll personally guard it all day myself"!!
She, totally oblivious to what this means to me, "I'll ring him and mention this is on then, Bye".
I watched every car entering at the top of the hill the rest of the morning, but nothing. I told the guys doing the entrance to find me no matter were I was if it appeared.
Then at 2.30pm I happened to look up to check again and there it was!
It was at that point I turned into a kid again.
I needed to move the Alfa Mito from it's spot to make a space for the California but I hadn't the keys as I'd given them to one of the guys, so off I went in search of him, thankfully not far away, and Mito, nice as it is was put to one side.
Then it arrived. It made the day perfect. The owner and his Wife were lovely people and were took a lot of time to talk to everyone. And to demonstrate how the roof works.
After a long chat with the owners Wife, or probably more from boring her to tears about my love for Ferrari and about how it was great to see a car as special as this in the flesh, she called her Husband over. Next thing I knew I was invited to sit in the car! I could hardly contain myself.
What a beautiful car. It's proportions are just about perfect.
As I was sitting there it began to spit a little with rain. The owner handed me the keys, told me how to start it, and how to put the roof up.
This moment probably means little to a lot of people but to me it was a special moment as I doubt I'll ever get to see another California let alone start one and put it's roof up.
And here's the photo's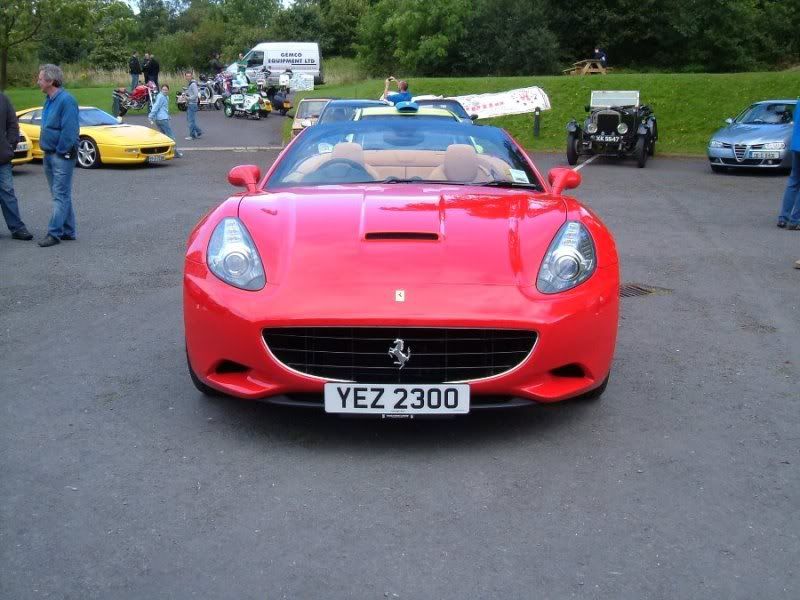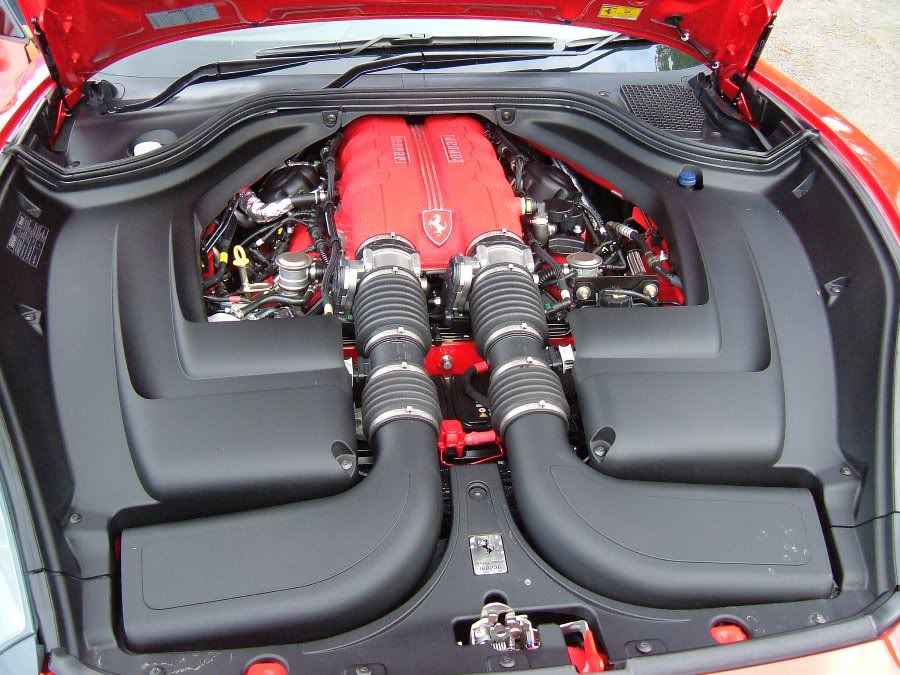 There was another highlight to the day. One of our club members who owns a 355 also owns this Fiat Punto Super 1600 WRC car and took me up the hill for a run. It was a completely mad car with serious excelleration for something with only a 1.6 engine.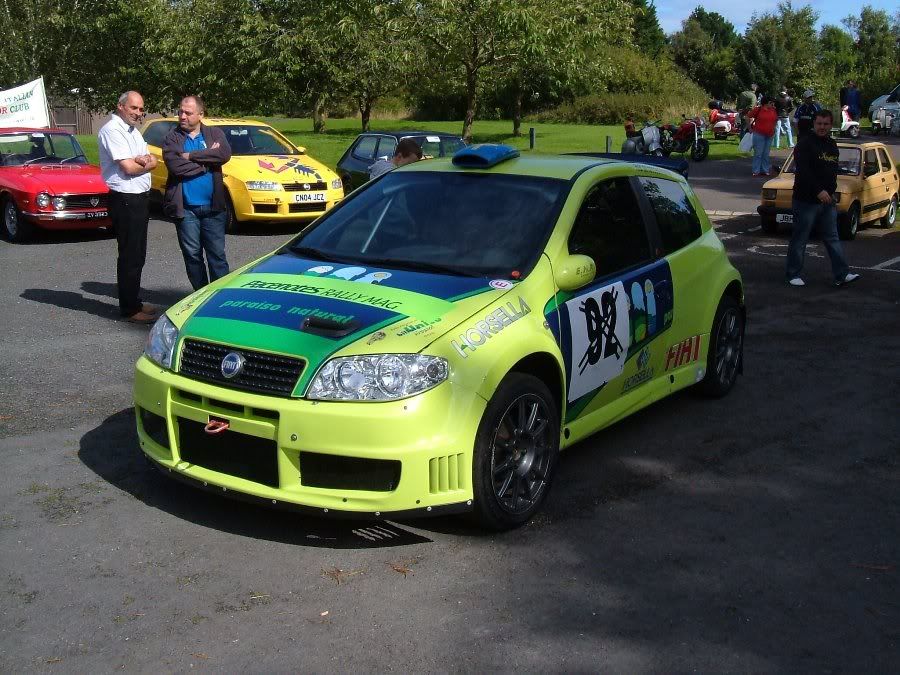 I wonder what the 2010 event will bring.
Join Date: Apr 2006
Location: United Kingdom
Ferrari Life Posts: 3,928
Sounds like a great day
Pictures look great too, and nice to see a few other Ferrari's in attendance. Thanks for sharing your emotions from the day with us
---
Archie
Enz9, Sounds great. If I'd known it was on I'd have driven up from Dublin... Pics look great!!
Barry.
Enz9 - thanks for sharing the photos of the California. Enjoyed your impressions, as well... The Cali has been an on-again and off-again love for me and seeing some 'real life' photos are far more important than the promotional photos.

Unfortunately, one of the first things I noticed about the car is that the top 'exhaust pipe' is gleaming, shiny new, and the one on the bottom looks like the rest of the exhausts I've seen - real. Can you confirm/deny that the top pipes are 'fake' and that the bottom pipes handles all the actual exhaust gases?

Thanks again for the great photos...
---
Colonel1961
- - - - - - - -
Current: 250 SLX, 8.2L (Sea Ray)
Former: 308 GTS QV; F355B; 360 Modena Spider F1; F430 F1 (2x); 550 Maranello; 599 GTB Fiorano F1; 612 Scaglietti
Great pictures. It sounds like a great time!
---
" To accomplish great things, we must not only act, but also dream; not only plan, but also believe."-Anatole France
"Dude, it's just math"-Pete
Join Date: Dec 2007
Location: Regina, Canada
Ferrari Life Posts: 2,112
Awesome pics looked like a great day, I still don't like the Cali, maybe it is like the 348/355 and is not photogenic it is a car to be revered in person only.
---
Night life........ain't a good life........but it's my life -- Willy Nelson
It is the small things that make the biggest difference.
Great story with a happy ending
.
Join Date: Apr 2004
Ferrari Life Posts: 1,516
Ooh... I LOVE the WRC punto
Join Date: Apr 2006
Location: Northern Ireland
Ferrari Life Posts: 594
Just in the door from our club meeting
The owner of the California came up to the meeting
And TOOK ME FOR A RUN IN THE CAR
WOW! I love all Ferrari's but For me this is the whole package. Well proportioned, Hard or soft top (the roof was down by the way so I could hear the music better) Seriously quick if need be. Yes I, a grown man, nearly shed a tear of joy but I forced myself not to. If there was one thing that stood out to me, it was the little "pop" the engine made when it was getting ready for a change down gears.
And to finisih the night off nicely another friend who has a 360 CS left the meeting on full song, what a spine tingling sound a CS makes in full race mode.
"I got a drive in a California"
and it's not my Birthday until next month.
colonel1961 yes I can confirm all 4 pipes are the real deal. I checked for you.
Bas, you'd have taken that Punto home and cuddled it. It was brilliant in a different way.
I'm away to bed a happier than normal man tonight.
Join Date: Apr 2004
Ferrari Life Posts: 1,516
I'm happy that you're happy Stu
That Punto really is something else. WRC cars tend to be pretty insane, and this is yet another example
Quote:
colonel1961 yes I can confirm all 4 pipes are the real deal. I checked for you.
Glad to hear it! (no pun intended...) My source of information appears to be suspect.
Thank you, kindly.
---
Colonel1961
- - - - - - - -
Current: 250 SLX, 8.2L (Sea Ray)
Former: 308 GTS QV; F355B; 360 Modena Spider F1; F430 F1 (2x); 550 Maranello; 599 GTB Fiorano F1; 612 Scaglietti
Posting Rules

You may not post new threads

You may not post replies

You may not post attachments

You may not edit your posts

---

HTML code is Off

---