Join Date: Mar 2011
Ferrari Life Posts: 3
246 GTS #7902 for sale. Anyone offer opinions?
---
Edenholm Motor Group | Pre-owned Dealer | Scottsdale, Arizona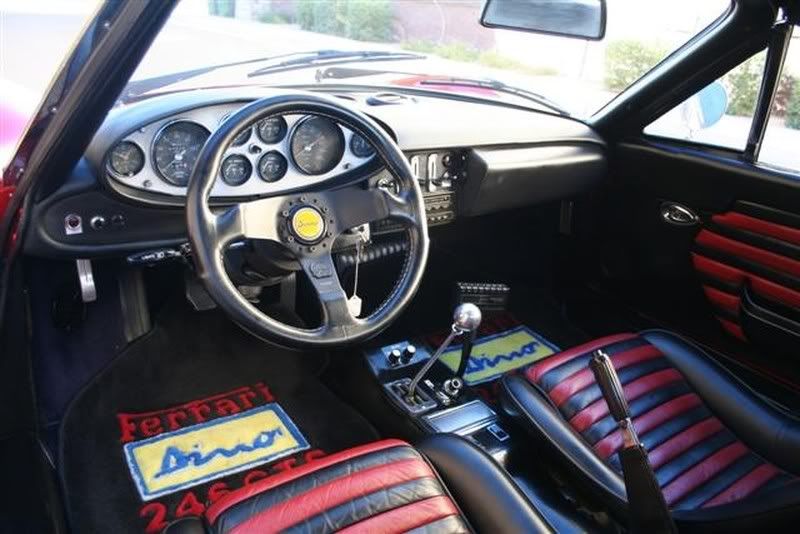 Seems like there are many modifications. Steering wheel? Floor mats? Rear Ferrari badge? Contrast red and black inserts? Mileage is 104k not 9500. Red valve covers? Blauplunkt radio?
Anything else you can see wrong?
Thanks.
Rob
Join Date: May 2010
Ferrari Life Posts: 3,323
Quote:
my opinion. Why? run forrest, run.
It will be for sale for a very long time.
That price was market correct..... like 4 years ago. Way too many "options" for the price that's being asked. Wrong wheels, wrong leather, Ferrari logos when there shouldn't be any..... the list could go on and on.
---
Current: 85' GTS QV
It's a simple process...... it's just complicated by human beings....
Join Date: May 2010
Ferrari Life Posts: 3,323
The car is also listed on eBay. The beneath-the-surface photos are frightening.
Join Date: Mar 2011
Ferrari Life Posts: 3
Thanks that is what I was looking for. Have found a couple of nicer one's. Hard to find a car with chairs and flairs that isn't over 200k.

Rob
Join Date: Jan 2010
Location: USADino
Ferrari Life Posts: 828
Shifter ball has been changed, dash is smooth vinyl not mousehair, a passenger's side external rear view mirror was added. Haven't seen any of the compartments.
Note to prospective buyers - insist on getting the books/pouch, tools, jack, lug net wrench and emergency triangle when buying a Dino. A common trick is to make the car look more affordable by deleting these things. The buyer later on finds how really expensive these items are. Dealers have been looting Dinos' extras for decades and profitting later.
Quote:
Thanks that is what I was looking for. Have found a couple of nicer one's. Hard to find a car with chairs and flairs that isn't over 200k.
Rob
Beware of cars which have had these options added to artificially increase their value. Always check out a prospective purchase with the free Dino Register
The Dino Register
Posting Rules

You may not post new threads

You may not post replies

You may not post attachments

You may not edit your posts

---

HTML code is Off

---